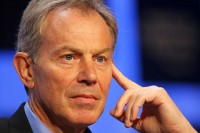 It's a known fact that Sierra Leone, like any other post conflict nation, is highly donor driven. We therefore expect the central government to explore all investment and development possibilities in the western world. So far, we know that President Koroma is going several extra miles in his quest to attract investors and donors even though the ordinary citizens are still crying for betterment. Of course it's a known fact that the giving hand is always honoured more than the recipient. Which means we the citizens shouldn't expect our government to maintain a high degree of respect while depending on foreign aids. The fact which no one can change however, is that we are an independent nation; we will celebrate the anniversary in few days time.
Though some of us are working 24/7 on project ideas that are attracting donor funds to poor communities in the interiors, but we still recognize and respect the central government of Sierra Leone as an independent authority with full sovereignty to govern us as a free and independent nation. In addition to that, regardless the fact that donor surveys are categorising majority of Sierra Leoneans as the world poorest – living below the poverty line (1$ per day), dying of curable diseases, 75% of the youths redundant etc., we shouldn't forget the fact that good number of them are still surviving without any donor or government support.
The above brings me to the question: what has the 40 – Chance Fellows Programme got to do with the President's office? Why announcing it as a government press release? We know that there are powerful individuals behind this funding window including former British Prime Minister Tony Blair, but the announcement is nothing new or extraordinary. Some of us who have close contacts with foreign donors received this release months ago and it could be viewed in many online portals. Most importantly, there are donors out there who are dishing out to Sierra Leonean NGO's double or even triple the amount promised in this release, but State House never announced them. Also, this is not an exclusive opportunity for Sierra Leone; it is an invitation for applications from social business institutions all over the world with focus to Sierra Leonean, Liberia, Malawi and Rwanda. It's a challenge, a competition which nobody might even win in Sierra Leone. Why the donors didn't just announce it in the local newspapers and radios.
Certainly, this opportunity might be in conformity with and firm support of development priorities of our government, but it doesn't deserve any special PRESS RELEASE FROM THE OFFICE OF THE PRESIDENT. Except otherwise there is a hidden agenda behind it.