By Othman Sheriff, Editor, CEN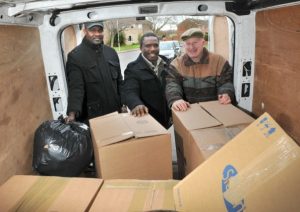 On behalf of all Sierra Leoneans at home and the Diaspora, I wish to hereby register my greatest concern about the publication in the Lynn News which was republished by Sierra Leone View on Wednesday 21st instant, with the following caption:
Gaywood: Crisis Relief aid collected for Sierra Leone
The venture undertaken by the UK based charity, Crisis Relief, to help poor children in Sierra Leone deserves abundant thanks from every Sierra Leonean including myself, and I hope and pray that it will continue in years to come.
What I'm greatly concerned about however, is the first paragraph of the publication which contains the following sentence:
NINE large boxes filled with educational materials and light clothing for children and adults left Gaywood on Wednesday destined for Crisis Relief in Sierra Leone, the world's poorest country.
My dearest Editors of Sierra Leone View and Lynn News, please note that Sierra Leone is neither the world's poorest country nor in a crisis situation. It's true that between the years 1991 and 2000 that former British colony went through a bloody civil and political upheaval that left thousands of innocent lives and billions worth of properties destroyed; a situation that attracted the attention of the international community including aid agencies. This scenario forced the country to the bottom part of the world's Human Development Index.
However, after the upheaval was officially declared over in the year 2002 followed by a democratic election, our leaders have been working very hard with the help of western partners including aid agencies to revitalise and resuscitate the battered economy. Since then, Sierra Leone has been staggering to climb through the world Human Development Index. Though it was once listed as the least developed nation in the Index but it has been able to skip above few other countries. It's true that the country is still poor and needs philanthropic supports but that doesn't mean it's poorer than a country like Somalia which is not even mentioned in the Index. Poverty is a stigma that no one would like to be attributed to.
While I view it as a mere provocation for any writer to refer to Sierra Leone as an economically prosperous country in order to score political marks, I also take it as an insult for any writer be it for philanthropic or political reasons to constantly refer to our country as the world's poorest nation when in fact, it's far above some other countries in the world's Human Development Index.
I and my wife are running a charity in Germany with the aim of helping poor people in Sierra Leone, but this is because Sierra Leone is ONE OF THE POOR COUNTRIES in the world and NOT the WORLD'S POOREST.
I wish you all Merry Christmas and a joyous 2012 in advance.