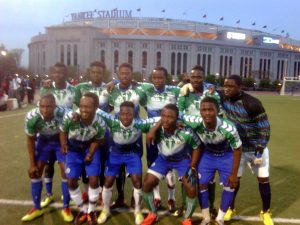 Sierra Leone safely secured a play-off spot in the quarter-final of the African Advisory Council of Bronx, (AACB) 2013 fourth annual Bronx Week African Nations Tournament in New York Sunday after a lackluster goalless draw with South Africa.
Gliyoh Moses – Sierra Leone's acting team president and coordinator said Sierra Leone could have crushed South Africa's Vuvuzela Boys into smithereens if it wasn't for the suspension of four of his players including 3 defenders: Daniel Priddy, Mohamed Sesay, Alhassan Gbla and goalkeeper James Kargbo. Eventually, officials allowed Kargbo to play in the game against South Africa after Moses said he pleaded with tournament officials that his team did not have a substitute goalkeeper.
However, tournament officials said the suspensions were justified due to the unruly and unprofessional behaviors of Sierra Leone's team and its coach. The officials also say, since the inception of the tournament, there has been no suspension until this year when Sierra Leone joined the tournament.
FixtureSierra Leone's coach Mr. Sentu Johnson divulged via phone from his home in New YorkFixture Monday that a meeting is schedule Tuesday at the Bronx Courthouse (tournament's meeting place) where the fate of the suspended players would be determined. He also added that his team was only challenging the heavy-handed suspension.
Meantime, an advisory issued Monday by Cameroonian-born Mr. Ngande Ambroise – Chair, Social Committee and Commissioner of AACB declares Sierra Leone, Burkina Faso, Gambia, Ghana, Guinea, Niger Senegal and Togo as qualifiers for the play-offs leg of the tournament.
Based on Mr. Ambroise's advisory, the play-offs will kick-off Saturday, May 11, 2013 at Macombs Dam Park – across from World famous Yankee Stadium in the Bronx with Senegal going against Togo, Burkina Faso Vs Ghana, Guinea Vs Gambia and Sierra Leone Vs Niger.
Sixteen African countries in 4 groups are participating in the 2013 tournament including Senegal, Burkina Faso, Mali and Nigeria in Group A; Niger, Gambia, Liberia, Cape Verde in Group B; Guinea, Sierra Leone, South Africa, Ethiopia in Group C and Ghana, Togo, Ivory Coast, Cameroun in Group D.
Each teams played 3 matches lasting 60 minutes duration per game over two weekends in the qualifying phase of the tournament, which ended Sunday. The first two teams in each group will proceed to the next leg of the tournament.
AACB officials also say during the play-offs the duration of the matches will be 90 minutes the length of a profession football match.
The African Nations tournament commenced 3 yrs ago with just four teams. It grew to 12 teams in the second year; it currently boosts 16 with anticipation of more teams joining the tournament next year.
"With the largest concentration of continental Africans in America are in Bronx County, there could never have been any better place to have this tournament than the Bronx," said Mr. Ambroise. Adding that the tournament and advisory council's five committees: economic, social, interfaith, civil participation, arts and cultures has helped the African community to be more visible in the Bronx and all of New York.
The semi-final is Sunday, May 12, 2013. The tournament concludes with a final match between winners of the semi-final at 12noon Saturday, May 18 at Macombs Dam Park located at East 161st Street at River Avenue in Bronx, New York
As far as who will win the championship, Coach Johnson is optimistic assuring Sierra Leoneans that Sierra Leone will definitely clinch the championship trophy. He said other Africans are packing the stadium to support their countries therefore, he urged Sierra Leoneans and friends of Sierra Leone in New York and surrounding areas including New Jersey, Pennsylvania and Connecticut to pack the stadium during the playoffs to render their full support for Sierra Leone's team.
The annual African Nations Tournament is the only major African event celebrated during Bronx Week. A Parade, Food & Arts Festival and Concert will ensue a day after the tournament Sunday, May 19 – on Mosholu Parkway in Bronx.