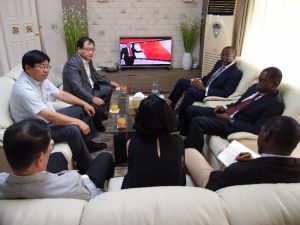 As part of the ongoing efforts of the Sierra Leone Embassy in Korea to showcase and promote Sierra Leone to Korean Companies and potential investors in the aftermath of the Ebola scourge, His Excellency Ambassador Omrie Michael Golley, Sierra Leone's Ambassador to Korea, today August 20th 2015, received the Chairman and CEO of Younghaw Development Industries Limited Mr. Kim Hun Ko. The Chairman was accompanied by Director Chul Eui Han and officials representing other divisions of this Korean Corporation.
Younghaw Development Industries Limited specialise in the design and construction of SHS (simple housing systems) featuring prefabricated housing units. In addition Younghaw Development Industries manufacture and process specialised steel structures for industrial plants.
The Company also owns an energy generating subsidiary that manufactures generators, and solar power equipment.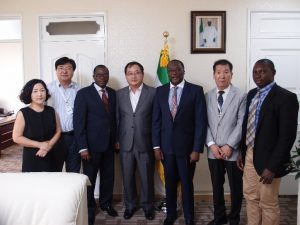 His Excellency Ambassador Golley warmly welcomed Chairman Ho to the Mission, and indicated that his Company could play an important role in Sierra Leone's post Ebola recovery efforts, with support for infrastructural construction and energy generation being at the centre of these efforts. The Ambassador further stated that Sierra Leone was now truly open for business to genuine investors, and invited the Group to visit Sierra Leone at the earliest opportunity to familiarise themselves with the favourable investment climate in the country, and engage in discussions with officials in the public and private sectors.
The Chairman, accepting the invitation to visit Sierra Leone in the near future, stated that his Company had already successfully completed various housing and additional infrastructural projects in Africa including Angola and Kenya, and looked forward to assisting in the country's post Ebola national development efforts.
The Minister Plenipotentiary at the Mission Mr. JTA Sawi and Second Secretary Steven Levey also attended the meeting.