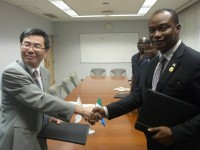 Philip A. Kamara, a Sierra Leonean student who went to study for his master's degree in Public Financial Management at the Tokyo University of Science, School of Management in Japan, has narrated how he was constantly harassed and discriminated against throughout his first semester stay at the university.
Speaking at a press conference on Friday before the parliamentary Oversight Committee on Foreign Affairs and International Cooperation at the administrative building of parliament, Kamara said he enrolled at the Kuki Campus, Saitama in April, 2014.
According to him, he performed remarkably well throughout the first semester and that he started encountering some difficulties with his Professor, Takato Hiraki, for reasons he could not explain.
"While I was at home, I fell ill and sought medical attention, but the medication I received had a negative effect on me. I complained to the hospital where I was advised to discontinue taking the drug," he alleged. "My health problem worsened and fear gripped me to the extent that I thought of returning home. In August, 2014, I found myself being chased and hounded at every point. If I join any train to and from my home, I would be charged twice the normal fare. Everywhere I go, I found people wearing black holding placards against me."
Kamara further noted that after all the alleged discrimination and persecution, he informed the university authorities that he could no longer continue his studies and demanded for a ticket to facilitate his way back home as his life was no longer safe.
He said the university authorities decided to transfer him to another campus but he refused on the grounds that the same intimidation will continue.
"I was provided with a ticket but when I got to the airport, it was rejected by the airline staff on the grounds that it was fake and that I should pay extra money for it to be adjusted, but I refused. By then it was late at night and the school officials assured me that they would provide me accommodation at a nearby hotel," he narrated. "On my way to the hotel, they told me that we should first visit a hospital for medical check-up. I refused to enter the hospital because I never complained that I was sick. I ran away leaving my luggage in the taxi and slept in the street. It was then I called home for help and the government of Sierra Leone finally brought me home last week. I am very grateful to the government."
He said while he was going through such painful experience, the university authorities wrote the government of Sierra Leone, through the Ministry of Education, Science and Technology, that he was mentally unstable and should be sent home for medical attention.
"Such statement was a blatant lie and a deliberate attempt to subject me to human rights violation. Actually, I had laughed at the report, but upon a second thought, I knew I should challenge it because it will affect my future," he said. "Japan and Sierra Leone have maintained a long standing bilateral relation for decades; therefore, this is a humble appeal to the government to come to my aid. I want the government to fully examine and issue me with a medical certificate regarding my mental capacity. I would also like the government to aid my full rehabilitation because I have gone through an ordeal that I was never prepared for. I am currently traumatized and have nowhere to go for help except to our government."
Chairman of the committee, Hon. Augustine B. Torto, said they will not recommend [anything to the government] for now until a medical doctor issue out a medical report on Kamara.