Some dreams do come true. On Saturday, April 5, 2014, International soul singer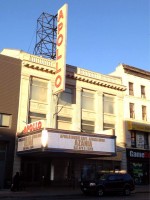 will realize her childhood dreams when she performs at the world famous Apollo Theater's four-day Africa Now Festival.
"Seeing my name up on the Apollo marquee was literally a dream come true for me. An amazing blessing," Azania told No Questions Asked radio show listeners during last week's interview broadcasted live on WBAI, 99.5 FM, Pacifica Network Station in New York City.
Azania says she will perform lovely, soulful, jazzy and funky songs from her acclaimed album "Rising" as well as new songs from her next album to be released this year.
She will be accompanied by her six-piece band, which includes Shawn Whitley (bass), Justin Mathews (guitar), Lucianna Padmore (drums), Yeissonn Villamar (keyboards) and Gbianka Kotee & Staren Soanes (vocals).
This year's Africa Now Festival entire acts are from West Africa with Sierra Leonean artists dominating the lineup.
Sierra Leonean famous hip-hop artists Baja and the Dry Eye Crew will open for Azania who is also originally from Sierra Leone. While Sierra Leone Refugees All Stars, an Afrobeat and root, rock reggae band will share the spotlight on Apollo's Main stage with Senegalese trio Les Freres Guisse and Malian singer Fatoumata Diawara.
"I'm very excited and proud to see Sierra Leonean's gaining recognition on the music front. Many very talented artists from Sierra Leone deserve more exposure so I am happy we will have three excellent groups representing us at the world renowned Apollo on April 5, 2014. Come celebrate with us at the Apollo Music Café in Harlem, New York," Azania said in a statement.
The Apollo Music Cafe is located at 253 West 125th Street in New York City. For tickets information visit https://www.apollotheater.org/apollo-music-cafe