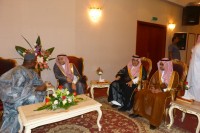 Dressed in the traditional African attire, Sierra Leone's new Ambassador in Saudi Arabia and his Staff last Sunday received high-ranking Saudi Government officials, members of the Diplomatic and Consular corps, Saudi and Gulf Investors, among many other dignitaries at a reception hosted at the Riyadh Palace Hotel to celebrate Sierra Leone's 53rd Independence Anniversary.
In his opening remarks, Ambassador Alhaji M.S. Kargbo said that Sierra Leone's Independence on 27th April, 1961 was an important milestone in the African history and deserved to be observed and celebrated in a grand style by Sierra Leoneans in the Kingdom and all over the world.
He added that 27th April should serve a day for all Sierra Leoneans to pay glowing tribute to the founding fathers and mothers of Sierra Leone and all those who played pivotal roles for the country's Independence from British rule.
Addressing the guests, Ambassador Kargbo conveyed the fraternal and friendly greetings of His Excellency, Dr. Ernest Bai Koroma, President of the Republic of Sierra Leone and those of his Government to the Custodian of Two Holy Mosques, King Abdullah Bin Abdulaziz Al Saud; His Royal Highness, Prince Salman Bin Abdulaziz Al Saud; Crown Prince, Vice Custodian of the Two Holy Mosques, First Deputy Prime Minister and Minister of Defence; His Royal Highness, Prince Muqrin Bin Abdulaziz Al Saud, Deputy Crown Prince, Second Deputy Premier, Advisor and Special Envoy of the King and the Government and people of the Kingdom of Saudi Arabia.
Kargbo expressed his satisfaction on the excellent bilateral relations between Sierra Leone and Saudi Arabia, which he said has spanned for over thirty years. The Ambassador also used the opportunity to highlight the economic developments and achievements his country has attained since Independence, particularly under the leadership of His Excellency, Dr. Ernest Bai Koroma. He proudly announced that Sierra Leone is one of the fastest growing economies in the African continent and that it has successfully realized economic and social development since its foundation 53 years ago. He noted that such developments can't happen without the support of the international community.
In spite of the uncertainties in the global economy, the Ambassador told his audience, Sierra Leone economy remained resilient and relatively stable. "The economy grew strongly by 15.2 percent in 2012, and was on course to achieve the projected growth rate of 13.3 percent for 2013. Real GDP is projected to increase to 14.0 percent this year, and 12.4 percent in 2015 before returning to 7.5 percent in 2016. ."
Though there are still monumental challenges after 53 years of independence, the envoy noted, there are indicators showing that the national economy is growing rapidly based on the assessment of the IMF, World Bank and other International financial institutions.
He encouraged the Kingdom of Saudi Arabia to continue being a strong partner of Sierra Leone in pursuing economic and development objectives, adding that, there is a solid foundation for Sierra Leone-Saudi relations, with extensive cooperation in various fields.
However, due to his mindset, which is focused on wooing businessmen and investors to Sierra Leone, he used the just concluded independence anniversary as a timely and golden opportunity to showcase his country's numerous investment opportunities to Saudis.
The Ambassador told his audience that the new business laws in Sierra Leone have made it relatively simple for any business person to register his/her business in Sierra Leone in less than 48 hours, adding that, Sierra Leone is the best and safest investment destinations in Africa.
"Sierra Leone is one of the finest countries in Africa. She is blessed with one of the largest natural harbours in the world. Sierra Leone is remarkably beautiful, with pristine beaches, green mountains, and jungles that remain largely untouched. It has friendly people with political and religious tolerance."
He also encouraged Saudi and Gulf investors to go and invest in mining, infrastructure, agro-industries, energy, tourism, marine and fisheries and many more. Quoting a recent Parliamentary address by the President, the Ambassador said: "No country is attractive to investors just because it has great natural resources. A country also has to be investor-friendly to attract investments; it has to be open for business; it has to provide protection for investors; it has to offer possibilities of greater returns for investors to choose it over other countries. That is what we have been doing, and that is why we have attracted investments worth hundreds of millions of dollars, more than any time in the country's history."
He concluded by calling on investors to think differently about Sierra Leone. "It is time to visit our country and witness the opportunities it offers first hand. And when you have seen what Sierra Leone has to offer, I believe you will share my conviction that, it is time to invest in Sierra Leone."
The reception enjoyed a warm and solemn atmosphere. Sierra Leonean children sang the national anthem and the national pledge before the programme commenced and they also drew lots of applauds from the audience after performing an interesting skit. From the parking lot of the prestigious Riyadh Palace Hotel right up to the revolving-door entrance, going up to the specially-decorated stairs to the main hall of the celebration, the occasion was very colourful and well-attended. The occasion was climaxed by the cutting of the cake by a representative of the Governor of Riyadh and the ambassador as a sign of harmony between the two sister countries.
Meanwhile, the Ambassador and his head of chancery, Mr. Umaru Dura last Monday appeared on Saudi TV Channel 2 (KSA 2), the widely viewed English news TV channel of Saudi Arabia. In their one hour discussion programme, they gave their viewers an overview on Sierra Leone – its history, treasures and the abundant investment opportunities available in the West African nation. In a similar development, Sierra Leone Nationals in neighbouring Dubai in United Arab Emirates led by the President of the Sierra Leone Nationals' Association in the Emirates (SLNAE), Ibrahim Talleh Bah, also celebrated their national day with pomp and pageantry.