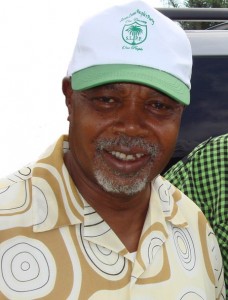 The just concluded opposition SLPP national delegates conference in the Southern city of Bo held at the Hikal Academy hall on Koribondo Road saw Chief Somano Kapen and his 'Straight Line' team get a clean sweep. Observers described the outcome as a political tsunami.
The battle for the position of National Chairman and Leader was a straight fight between Ambassador Ali Bangura and Chief Shebora Somano Kapen – an all Northerner affair. It was the first election conducted amidst heightening tension. Chief Somano Kapen polled 310 votes and Ambassador Ali Bangura, 287 votes.
After the announcement of the chairmanship result which was widely viewed as the decisive contest, Dr Wusu Sannoh, an aspirant for the position of Deputy Chairman under Ambassador Ali Bangura's umbrella immediately announced his withdrawal from the race leaving Dr. Prince Alex Harding to go unopposed.
Next to withdraw his candidature was Dr Alfred Bobson Sesay who was running for the position of Northern Region Chairman. His challenger, Dr. Abass Bundu, also went unopposed.
The incumbent National Organizing Secretary, Sahr Nyama, too, toed the line allowing Sheku Kondeh aka SK to take the position unchallenged.
Following the withdrawal of the above candidates all of whom were in Ambassador Ali Bangura's team, the former Women's Leader, Mrs I.J. Kabba, ex-Western Region Chairman, Brima Keita, erstwhile National Chairman and Leader, John Oponjo Benjamin aka JOB and others melted into thin air upon sensing disgraceful defeat.
This paved the way for former Harford Secondary School Principal, Mrs Lulu Sheriff, to become the party's new National Women's Leader without a fight. It was the same for Hon. Musa Tamba Sam who retained his post as National Publicity Secretary. Also, to maintain his position was the National Secretary General, Sulaiman Banja Tejan-Sie.
The position of Financial Secretary went to former Bank Governor, Dr. J.D. Rogers, Western Area Chairman, Hon. Manso Dumbuya, Eastern Region Chairman, Hon. Philip Tetema Tondoneh, Southern Region Chairman, Hon. Edward Suluku aka Solution, Young Generation Leader, Peter Moigua and Young Generation Secretary General, Joseph Moody from Kambia district. 
The two days conference in its entirety was peaceful, calm and quiet with no reported incidents of violence. Police provided round the clock security at the venue for the event to go on without problem.
Meanwhile, in his victory speech, the newly elected Chairman and Leader of the SLPP, Chief Somano Kapen, has called for unity and extended an olive branch to his opponents, emphasizing the need for winners to embrace losers in the spirit of on.