The High Court presided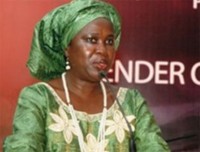 over by Justice Abdulai Cham, which is looking into the counter-motion of an interlocutory injunction granted to the Minority Leader, Dr. Bernadette Lahai, in respect of moves by her Sierra Leone People's Party to replace her with another Member of Parliament, yesterday again adjourned the matter until 31 March.
The matter was adjourned few weeks ago due to the absence of the presiding judged, believed to be as a result of a defective vehicle.
The opposition party, represented by constitutional law expert and lawmaker, Dr. Bu-Buakei Jabbi, has challenged the legality of an interlocutory injunction granted to the embattled Minority Leader, after the party – which appointed her to the position – wrote and informed the previous Speaker that she had been replaced with Hon. Emma Kowa. The move came after majority of opposition MPs signed a petition to impeach Dr. Lahai because of allegations of not providing effective leadership and being overtly cosy with the ruling party, especially during the passage of critical bills, when the opposition is expected to play its role of serving as a bulwark against hurriedly passed laws.
Dr. Lahai was in court yesterday with her supporters, who were heard chanting slogans in support of her. While speaking to her supporters at Law Court building, Dr. Lahai said the SLPP is an institution which should stand for what is right, and that every member should be granted that right.
She said the party should grant her members 'freedom of association'. Without dilating what mode of association, she thanked her supporters for showing solidarity with her, noting that she was committed to political tolerance as the party was not founded for few individuals, and that they should stand for the truth.
Ms. Harriet Turay, a supporter of Dr. Lahai, also said the party belongs to every member and vowed that they will not allow anyone to marginalise them.
She said they will continue to attend court proceedings until the verdict is pronounced, confident that the truth would be revealed because they stand for the truth.
She called on their supporters to be peaceful and maintain decorum while in court to avoid chaos.