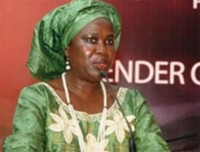 Minority Leader of Parliament, Hon. Dr. Bernadette Lahai, representing the main opposition Sierra Leone Peoples Party (SLPP), yesterday 19th December 2013 received a 'Recognition of Exemplary Service and Contribution to National Development' award from the young people of Sierra Leone.
Reading the Citation in the Parliamentary Conference Room yesterday, the Public Relations Officer in the House of Parliament, Cyril Juxton-Smith said born to Mr. Augustine Senesie Musa and Mrs. Jenneh Musa in Yumbuma village, Lower Bambara chiefdom, Kenema district in 1960, Dr. Lahai was elected Member of Parliament for Kenema district in July, 2002.
He said she was reelected in 2007 and 2012 for Constituency 13 in Kenema district. During this period, Mr. Juxton-Smith went on the woman Honourable Member of Parliament chaired various Committees on Education, Agriculture, Forestry and Food Security and has been the first female to hold the position of Minority/Opposition Leader in Sierra Leone's House of Parliament.
He said being among the very few female professionals in agriculture in Sierra Leone, Hon. Dr. Lahai research work on gender and gender demission in agricultural research and extension has greatly contributed to the development of agriculture in Sierra Leone.
He revealed that the Honourable has also made numerous contributions in diverse developmental sectors including Sierra Leone's Vision 2025, development of PRSP, gender and conflict-sensitive Legislature, advocacy for gender equality and women's empowerment, national women's leader, girl child education, climate change advocacy and quality international representation, among others issues discussed in parliament.
Responding, Hon. Dr. Bernadette Lahai thanked the young people for recognizing her good work and for giving her the honour she deserves. She said she never knew she was pleasing people not until when the young people have come to reward her for her hard work.
"With all the enmity against me by certain people, I thought I was doing nothing good to satisfy my people but with this recognition from young people who are leaders of tomorrow, I now know that people appreciate my efforts" Dr. Lahai noted.
She assured that she will continue to do more and will not be taken aback by just a small group of people who does not want to see her serving the people of Sierra Leone diligently.
Speaker of Parliament, Hon. Nathaniel Abel Stronge commended the young people for recognizing hard working Members of Parliament. He encouraged them to be steadfast and be focused in life so that Sierra Leone will boast of a descent future generation.
The Speaker ended by congratulating Dr. Lahai for her good work and encouraged her to continue.