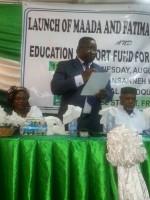 The world today is neither just nor sustainable. Poverty and hunger, unequal distribution of wealth and opportunity, environmental degradation and diminishing resources are just some of the challenges afflicting our world. Notwithstanding the enormity of these challenges, they are surmountable. At The Maada & Fatima Bio Foundation we believe in the ingenuity and basic humanity of people in solving these problems. We are convinced it is possible to create a world which is both just and sustainable; this conviction informs and drives the Maada & Fatima Bio Foundation.
We have set ourselves on the path to work to equip our people with the knowledge and skills they require to make better decisions for a just and sustainable world. We support them to learn more about the challenges facing our communities, country and the world at large. We believe that, in the long run, it is the development of these capabilities that will play the biggest role in creating a just and sustainable world.
The Maada and Fatima Bio Foundation is a charitable, not-for profit organization dedicated to empowering marginalized children and youth in Sierra Leone. Our activities will range from health interventions for children in order to reduce child mortality, to providing quality education to youth empowerment centers and provision of scholarships to high school and university students.
Our focus on education is because it is proven to be one of the most important factors for sustained social and economic development. Education also promotes a culture of peace, tolerance and understanding and builds the foundation of diversity, human rights and freedom. Children and youth can only truly benefit from education if it is offered in its entirety, ranging from nursery school all the way to either vocational training or university scholarships coupled with internships.
The objective of this complete educational path is to allow the beneficiaries to gradually acquire the knowledge and skills that will enable them to make the right decisions for their lives, to find employment and to set the foundations for a self-determined life. We also encourage them to contribute directly or indirectly to their origins and help us to sustainably develop their communities. With the help of our staff, we will strive hard to identify deprived and needy communities so as to improve the educational and health situation for children and their mothers and the youths.
For this foundation, basic education for all is a must not only to improve literacy and provide alternatives to exploitation, but also we ardently believe that education is only useful if it can help us succeed outside of the classroom.
Since 2000, quality education dominated much of the discourse as a reaction to the more quantitative narrative that was prevalent during the 1990s, when emphasis was placed primarily on expanding access to primary education. During that time, much of the focus in educational development had been on increasing the number of children and youth able to access basic education, with much less attention being paid to the outcome of the educational process. Despite the formidable progress observed in expanding access to basic schooling in much of the developing world since 2000, including in many of the poorest countries, higher net primary enrollment rates have yet to fully translate into higher literacy rates in many countries. This is largely due to the high dropout rates observed in many contexts and the resulting fact that many children do not complete the full primary education cycle and, consequently, do not acquire basic literacy and numeracy skills.
Moreover, and perhaps more worrying, is the observation that completion of a full cycle of primary education of poor quality does not always ensure the acquisition of basic numeracy and literacy skills. As a result, patterns of primary school dropout and the often low quality of learning in primary schools observed in many countries worldwide, contribute to the reproduction of illiteracy among young adults.
This is my point of departure: that in order for a country to develop, it must have adequate human capital to do so. Second, that human capital is obtained through education. Third, that education is a pivotal part of human development, and can positively influence standards of living, health and governance.
Investment in universal education at all levels (primary, secondary, and higher) has been proven to have positive impacts on individuals, their community, and nations. This is because education serves as an ― equalizer which helps shrink discriminatory socioeconomic and gender gaps within society. Providing men and women, both rich and poor, an equal opportunity to gain foundational knowledge and expertise training in a particular field can significantly reduce poverty and inequality. A more highly trained workforce increases national productivity, which leads to higher income and strengthens the economic health of a nation. This is a powerful contributor to development by allowing the country to become more competitive within the global market.
Education not only leads to economic development but also health and human development. Health, as defined by the Education Development Centre, is not simply the absence of illness but the presence of physical, mental and social welfare. If people are healthy, they can take full advantage of every opportunity to learn, work, and enjoy their lives. Educated individuals are more likely to be knowledgeable on a variety of healthcare topics, such as hygiene, nutrition, and reproductive health, and can thus employ the proper tools to lead healthy lifestyles. Furthermore, because schools provide a space to learn positive social skills such as collaboration and conflict resolution, education has been linked with democratization, peace and security.
Benefits To The Individual
Education can have a profound impact on an individual's health and nutrition as well as productivity and earnings. The more educated a person is the more likely they receive information on proper hygiene, healthy dieting and ways to prevent communicable diseases; all of which can lead to increased life expectancy. In addition, research has established that every year of schooling increases individual wages for both men and women by a worldwide average of 10 percent. In poor countries, the gains are even greater. Education can thus be a great ―leveler, reducing societal inequalities and enabling larger numbers of a population to share in the growth process. Even more, education is particularly powerful for girls, who gain critical knowledge about reproductive health, which may increase their child's mortality and welfare through better nutrition and higher immunization rates.
A more educated society is more economically competitive, environmentally conscious and peaceful. An educated and skilled workforce is a pillar of the knowledge-based economy. This is important in a world where comparative advantages among nations come less from cheap labor or natural resources and increasingly from technical innovations and the competitive use of knowledge. Education can promote concern for the environment, thus enhancing natural resource management, national capacity for disaster prevention and the adoption of new, environmentally friendly technologies. It can also significantly reduce crime as robust school environments can strengthen academic performance while mitigating absenteeism and drop out rates—precursors of delinquent and violent behavior. By promoting peace and stability education can also contribute to democratization. Peace education—spanning issues of human security, equity, justice, and intercultural understanding— is of paramount importance. Countries with higher rates of primary schooling and a smaller gap between rates of boys' and girls' schooling tend to enjoy greater democracy. Democratic political institutions (such as power-sharing and clean elections) are more likely to exist in countries with higher literacy rates and education levels.
Primary education, as opposed to higher education, tends to be the focus of education development initiatives, due to the perception that it has a greater direct impact on economic growth. However, a recent study suggests that higher education is both a result and a determinant of income, and can produce both public and private benefits. The study also suggests that higher education may create greater tax revenue, increase savings and investments, and may be the catalyst for a more entrepreneurial and civic society. Higher education can also improve technology and strengthen governance. Many observers attribute India's success in entering the world economic stage as stemming from its decades-long efforts to provide high-quality, technically oriented, tertiary education to a significant number of its citizens. With commitment and unity of purpose, we can do the same for Sierra Leone.
Thank your all and have a pleasant evening.