B y Saidu Bah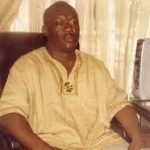 Musa Tarawally, Internal Affirs Minister, accused of violence
The recent act of violence in Kono and the National Stadium allegedly perpetuated by state security personnel against defenseless citizens has been widely condemned by several human right, civil society and political groups locally and internationally. State security personnel who allegedly beat journalists in Freetown and fired shots in the air in Kono are being widely condemned by human rights groups, civil society and at least one political party.
The Foundation for Democracy and Human Rights and Campaign for Good Governance say the Internal Affairs Ministry has not exhibited professional standards in handling strong political issues and rapport with journalists. The Government has come under sharp criticism from the public which a local NGO, Campaign for Good Governance (CGG) calls a 'recipe for violence' during elections and condemned the involvement of state security.
The Internal Affairs Minister, Musa Tarawalley, is embroiled in a security breach; with alleged reports of some security personnel in his convoy, 'did' fire gun shots in Kono causing panic with reports of properties damaged and people injured with mounting tension among rivals.
A civil society activist, Mohamed Koroma of the Foundation for Democracy and Human Right, says "there is poor relationship between the police and the public", stating that the police partnership board has not been effectively implemented. Koroma went on to express his dismay and frustration over the attitude of some police personnel that were involved in the sale of tickets during the Sierra Leone Vs Egypt match held at the National Stadium past Saturday.
He said "we received reports of police officers molested by irate youths for selling tickets beyond the stipulated amount at a Police Station in Freetown as they were only responsible for security not Sales Agents." Koroma also expressed disappointment that Presidential Body Guards beat up journalists and confiscated their equipment and even stole some money during the violence.
He said the beating up of journalists while carrying out their duties by state security personnel in full view of government officials and the public, is worrisome because its sends negative signals about our commitments towards upholding the principles of democracy. According to state house sources on condition of anonymity, the President is reported to be embarrassed by the incident and has called for an immediate investigation as usual.
However, concerns are also being raised about the independence of the investigation when the accused persons are occupying high positions in government. "Diana Finda Konomanyi of the Kono District Council; Minister of Internal Affairs, Musa Tarawalley and Vice- President Samuel Sam Sumana should explain what went wrong in Kono that caused the violence", says the human right activist. When this reporter contacted the Human Right Commission of Sierra Leone at Tower Hill adjacent the Vice President's office, they said the commission is concerned about the spate of violence involving state actors.
They disclosed that the Commission is currently investigating the incidents and will come out with a report as soon as possible. The Political Parties Registration Commission (PPRC) has also warned against political violence. The President of the Sierra Leone Association of Journalists (SLAJ), Umaru Fofana, described the beaten up of journalists by state security as "barbaric and a violation of human right". Umaru expressed fear over the persistent attack on journalists while on duty and called for an investigation into the matter which, he believes, will be derailed by political interference.
However some political analysts contacted by this reporter said the spate of violence creates divide and rule which is not healthy for the consolidation of peace and good governance in the country. Efforts to get government officials involved in the matter on record for their own side of story proved futile but our investigation continues