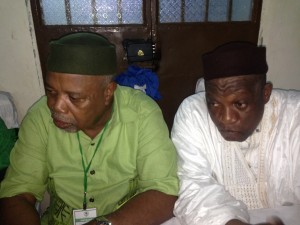 Sierra Leone's Political Parties' Registration Commission is currently looking into a petition to restrain the new executive of the opposition Sierra Leone People's Party from functioning until their grievances are addressed.
The petitioner, Ambassador Allie Bangura, who lost to Chief Sebora Somanoh Kapen at the recent party convention in Bo, could not give details of their concerns.
He, however, confirmed that the matter was being looked into after they lodged their complaints with the commission early this week.
"We don't want to say anything to the press at this stage. We should have held a press conference on Wednesday if the commission had sat on the matter which has now been deferred to Monday 2 September, 2013. We hope to talk to the press afterwards," he said.
Chief Kapen could not comment because he said he was not fully briefed about a petition.
Secretary General of SLPP, Sulaiman Banja Tejan-Sie, said they were aware of a petition with the PPRC but expressed doubts as to the exact respondents to the said complaint.
"We are aware of a petition which comes before the PPRC on Monday and I think that will be the ideal date for all parties to the matter. I am not sure who the respondents are because my position was declared vacant and I contested and won," he said.
Outreach officer and spokesperson for PPRC, Lucien Momoh, said they were yet to look into the specifics of the petition signed by Ambassador Bangura, Dr. Usu Sannoh and Isata Jabbie-Kabba who vied for the positions of chairman, deputy chairman and women's leader respectively. Formal hearings are expected to commence on Monday.
The petitioners were among scores of candidates and delegates who walked out of the hall while voting was still in progress, some of them announcing their withdrawal from the process saying "it was not credible".