By Dennis Kabatto, CEN Correspondent, USA
USA national soccer team goalkeeper Bill Hamid plays leading role in D.C. United's upcoming benefit event, supporting education in Sierra Leone
---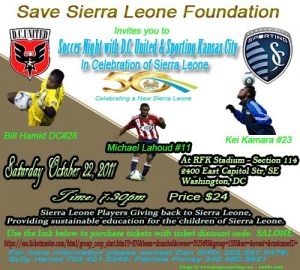 On October 22, 2011, Sierra Leonean soccer enthusiasts and others elated to learn about Bill Hamid's successful selection to the USA national soccer team will have an opportunity to watch the soccer star in action, while supporting a worthy cause for Sierra Leone. The event is a USA Major League Soccer (MLS) match between D.C. United and Sporting Kansas City (SKC) scheduled to be held at the historic, forty five thousand seating capacity Robert F Kennedy (RFK) Memorial Stadium in Washington D.C.
Bill Hamid, the offspring of Sierra Leonean parents, made his professional USA Major League Soccer debut in 2010 at the age of 19 years. With a win by his team D.C. United on that fateful day May 5, 2010 he holds the record as the youngest goalkeeper in MLS's history to win a regular season game. At the October 22nd event, Sierra Leonean soccer fans will get an opportunity to meet Bill in person after the game. A percentage of proceeds from ticket sales for the match will go towards promoting children's education in Sierra Leone, a cause supported by the soccer celebrity.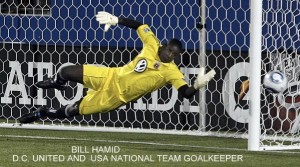 The benefit event is a culmination of months of ongoing negotiations between Save Sierra Leone Foundation's executive member Coach Sully Hamid and the management of D.C. United. Coach Hamid (a.k.a. Passadie), the proud father of the soccer star and quite arguably his number one fan, is the owner of "Premier Athletics Club" a very successful Virginia based soccer training establishment. Comparable to his passion for soccer – Coach Hamid played seven years of professional soccer with the Queenspark Rangers (QPR) of the English Premier League – he is one of those rare breed of Sierra Leoneans, adorned with an unparalleled and almost religious like passion for helping others. To say that Coach Hamid is extremely devoted towards enhancing lives in Sierra Leone is an understatement, because he is all about that and so much more. The admirable fact that his son, Bill Hamid has chosen to actively embrace a similar path lends credence to the old African adage that "the coconut does not fall far from the tree."
Although Bill Hamid is the first entrant amongst soccer players of Sierra Leonean origins to go into the USA national soccer team, USA Major League soccer has embraced other Sierra Leonean soccer talents in recent years. Those attending the D.C. United and SKC match will also have an opportunity to meet the gifted Sierra Leonean striker Kei Ansu Kamara who plays professionally for SKC and leads SKC with nine goals and four assists this season. Kei will probably attempt to do what he does best as the lead scorer at SKC; attempt to score goals by striking power shots towards goalkeeper Bill Hamid's net. There is also the talented Sierra Leonean midfielder Michael Lahoud who started his professional MLS career in 2009 and currently plays for California based, Chivas USA.
The D.C. United benefit event is the start of a process utilizing Save Sierra Leone Foundation (SSLF) as a platform to foster collaboration amongst leading Sierra Leonean athletes in the USA to collectively use their sports celebrity status to create awareness for noteworthy causes benefiting Sierra Leone. Other key parties providing support activities to SSLF on this project include the Embassy of Sierra Leone, journalist Dennis Kabatto and singer and multimedia artist Giileh Scholz, founder of the Sierra Leone Association of Musicians and Artist (SLAAM). Efforts to reach the younger generation through the popular social media outlets are being pioneered by Yolanda Thompson SSLF Vice President, and Emma Fofanah a current George Washington University MBA candidate.
To support the event, please visit www.savesierraleonefoundation.org where you will be able to access a D.C. United web link that allows you to purchase tickets for the event at a discounted price. Join us in witnessing the Bill Hamid – Kei Kamara faceoff and take the opportunity to get to meet these gifted soccer players in person.
Ambrose Thorpe, Save Sierra Leone Foundation Press Release 10/11/11, Contact Number: 240-706-7051 /252-387-8310