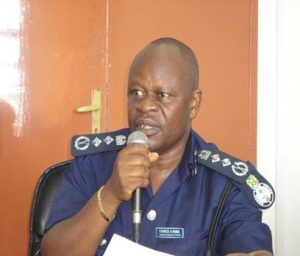 In professionally minded societies, officials who fall short in the performance of their duties often resign, or at least tender their resignation. Generals who lose wars even commit suicide.
This was what Abdul Akim Amer – the Egyptian General, did in 1967 after the defeat of Egypt by Israel in the six-day war – a war in which the legendary Moshe Dayan was credited with destroying the Egyptian air force on the ground. The humiliation was too much for him.
In Sierra Leone there is no such a thing as professionalism. This is why Francis Munu has kept his job as head of the police force, as the crime wave in the country surrounds him in all its stark reality.
He is in his sixes and sevens all the time, with his boss – the President looking on, with the same or worse amount of confusion.
Everybody knows that one of the primary duties of any head of state is to protect the people from both internal and external harm.
Some heads of states are even ready to go to war over just one of their nationals that has been harmed.
One has to wonder whether Francis Munu was able to absorb the training he underwent. Presumably, it does not matter since he has as his boss a President who sets very low standards in the running of state affairs, supplemented by the fact that it is political affiliation which ultimately determines whether or not a state employee keeps his/her job.
When this is made to parallel ethnic/tribal forces, we have a nation that is in an incurable paralysis.
Just a few weeks ago, Dr Kandeh Yumkella spoke about the high crime rate in the country, something we have not heard from the official opposition leader in Parliament – Bernadette "Lie-low", or is it Lahai? She endorses everything A.P.C does or doesn't do. Maada Bio says nothing.
I believe that if Kandeh Yumkella is given a chance at the presidency, Francis Munu will find himself doing another job, probably sweeping around police headquarters.
Sierra Leone has no room for gangs who are now able to access guns. We don't want to become one of the murder capitals of the world, with a telling effect on the economy, which is already listless.