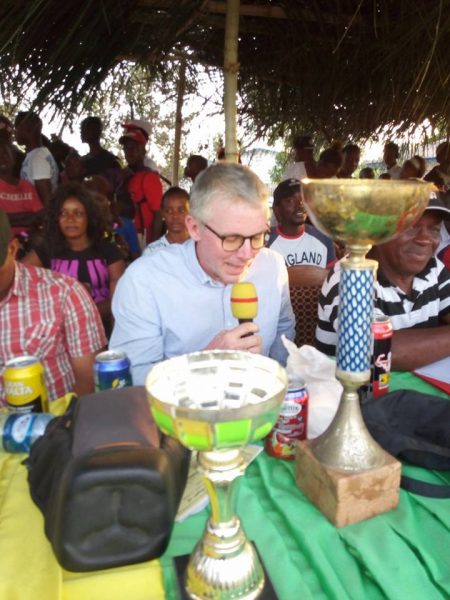 16 teachers from four secondary schools in Lunsar, Marampa Chiefdom, have completed a one day capacity building training on entrepreneurship innovation at the Marampa Islamic Secondary School in Lunsar.
The training was conducted by a Norwegian Expert, Bard Stranheim, as a way of empowering the teachers to serve as ambassador to their pupils in entrepreneurship innovation.  Participants were drowned from A.D.Wurie Memorial Secondary School, Marampa Islamic Secondary School, Guadalupe Secondary School, and Josephine Bahkitta Secondary School, all in Marampa Chiefdom PortLoko District.
In his presentation, Bard Stranheim express his thanks and appreciation to the various school administrations for allowing their teachers to attend such and interactive training and also commend the teachers for their commitment towards the training and assure that the training will help change their lives and the lives of their pupils. He explained that the essence of the training was to ensure teachers in Lunsar understand the concept of entrepreneurship and also to be able to teach their pupils on the importance of entrepreneurship innovation. He commended Emmanuel Conteh who facilitated his coming to Sierra Leone for his guidance and support in ensuring the training go on as planned.
Mr. Stranheim maintained the importance for teachers to understand the concept of innovation as an entrepreneur; it will help them prepare themselves properly before undertaking any venture especially in business. He revealed that to be a proper entrepreneur one has be creative and be able to solve complex problems and think critically especially when dealing with people who are emotionally intelligent.  However, he reminded the teachers of their role in impacting knowledge on their pupils and also encourages them to use the knowledge gained from the training to teach their pupils about entrepreneurship.
The coordinator of the training, Alhaji Salim Swaray, expresses his appreciation to Emmanuel Conteh and Mr. Stranheim for engaging teachers in the chiefdom on entrepreneurship innovation as it's a new phenomenon to them and they are grateful that this training will help broaden their knowledge. He revealed that the beneficiaries of the training will be training other teachers from other schools and who will in turn train others until all the teachers are well grounded in entrepreneurship innovation. He assured that they will ensure that the knowledge gained will be transmitted to others and the pupils.