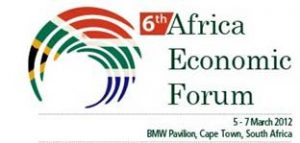 6th Africa Economic Forum 2012, Cape Town, South Africa: Shaping Africa's Future
JOHANNESBURG, South-Africa, February 6, 2012/ — Global Pacific & Partners (http://www.glopac-partners.com) announce the Program for the 6th Africa Economic Forum in Cape Town, South Africa, 5-7 March 2012.

Dr Duncan Clarke, Chairman & CEO, Global Pacific & Partners, says: R20;Our focus is on Shaping AfricaR17;s Future, as Africa holds great commercial promise, its destiny to be unlocked by local and foreign investment, enhanced trade and development partnerships, along with competitive business strategies across its landscapesR21;.
R20;Africa is not poor, but poorly managed: It needs more growth and investmentR21;
Dr Clarke continues: R20;The Forum will address leading-edge shifts in AfricaR17;s evolving economies, critical investment and business concerns, and the ContinentR17;s emerging role and strategic position within a highly competitive and rapidly globalising worldR21;.
The 6th Annual Africa Economic Forum will bring together AfricaR17;s leading industries, companies, state players, senior executives, and government officials to interface in a content-rich meeting, including players from countries outside Africa, and so connect fast-growth core industries inside and outside AfricaR17;s economies.
Global Pacific & Partners is delighted to announce CNN International as the Exclusive International Broadcast Partner for the 2012 program.
The 6th Annual Africa Economic Forum will include the 13th Southern Africa Oil, Gas & Energy Conference, as three intensive break-away sessions. These will focus on oil/gas exploration/development both offshore and onshore, shale gas/oil resources, power projects, renewable energy and energy efficiency, downstream oil markets and Southern Africa's future fuels mix.
The Conference features Keynote Ministerial Addresses from Hon Dr Rob Davies, Minister of Trade & Industry (South Africa) and Hon Elizabeth Dipuo Peters, Minister of Energy (South Africa).
Featuring 40+ senior-level presentations from across industry and the Continent including presenters from: Comesa, Brenthurst Foundation, GE Corporate, Ecobank, DHL Global Forwarding, Agricultural Buisness Chamber, Dupont, Industrial Development Corporation, Gordan Institute of Business Science, Petroleum Agency SA, PetroSA, Shell, Engen, Galana Petroleum, Forest Exploration SA and many others.
This high-level gathering will discuss AfricaR17;s Economic Future over an intensive three-day programme (including the 5th Sub-Saharan Africa: Strategy Briefing) based on the following issues and agenda:
R26; Corporate Strategies & Investments,
R26; Economic Growth: Business & Governments
R26; Africa's Changing Economic World To 2050
R26; Giant Economies & Newly-Emerging "Next Five"
R26; Investments & Financing AfricaR17;s Industries
R26; Economic Drivers & Future Growth Locomotives
R26; Natural Resources, AfricaR17;s Trade & Corporate Projects
R26; Development Challenges & Future Economic Shape
R26; AfricaR17;s Fast-Growth Economies & Emerging Markets
R26; Resources, Industries & Business Drivers
R26; Corporate Africa: Portfolio & Investment Strategies
R26; African Governments & State Owned Firms
R26; Great Powers, Emerging Foreign State Players
In addition, the 5th Sub-Saharan Africa Business Briefing takes place one day prior the 6th Africa Economic Forum, on Monday 5th March 2012, with unique insights provided on the prospects, potential and future economic outlook for business and investment across the Continent. Presented by Dr Duncan Clarke, Chairman & CEO, Global Pacific & Partners, a leading economic strategist on Africa.
Dr Duncan Clarke has been an Advisor to African governments and oil companies while the Company runs the ContinentR17;s largest annual oil and gas management meeting, the landmark Africa Oil Week, now in its 19th year, held in Cape Town.
Global Pacific & Partners has had more than 35 yearsR17; experience in African advisory practice and 20 years-plus in high-level event management, with a special focus on the world oil and gas industries. The company has hosted key oil and gas events, including Strategy Briefings, around Africa (Cape Town, Nairobi, Johannesburg, Lagos, Marrakech, Tunis) and in Asia, Latin America and Europe.
For further details, registration and booking, please visit: http://www.petro21.com or contact: amanda@glopac-partners.com