By Abdulai Mansaray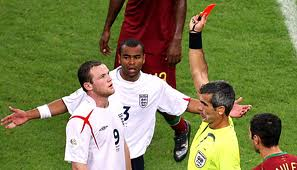 The English Football Association confirmed on Friday that it will appeal against Wayne Rooney's red card and three match ban he received playing against Montenegro last month. England went into the game needing just a draw to book their ticket to the Euro Finals. After letting a two goal lead slip, the frustration was there for all to see. Uefa tagged Rooney's foul on Miodrag Dzudovic, the Montenegro player as an "assault". I am not sure about the assault bit but it was definitely a foul by Rooney, after he had lost possession. Now the FA wants to appeal the decision by Uefa, and if upheld will mean that he will miss "all" the qualifying group games in the Euro Finals; that is if the England manager Capello decides to take him along. Rooney recently admitted his kick was "stupid" but felt that the punishment was "a bit harsh". Rooney is hoping that the ban can be reduced by at least one game; that is if the FA decides to go ahead with the appeal and is successful.
Since the debacle, armchair pundits have jumped to Rooney's defence. They agree that it was a foul but like Rooney; they believe that the punishment is harsh. They feel that it should be reduced simply because he did not contest the red card, and that he left the field hastily when shown the card. You have to give these pundits some credit for concocting the flimsiest excuse for a football related matter. Some have even mentioned conspiracy theories that Uefa has it for England. To reduce a ban because Rooney did not contest the card is like saying that he was supposed to contest it. It is like the young man who killed his parents and asked for clemency because he was now an orphan. The FA feel buoyed by Dzudovic's, (the victim) support for Rooney; which seems to be the central component of the FA's appeal. How ridiculous.
The FA seems to box itself into a corner by appealing the decision. If that was in the premier league, the FA would give an additional one match ban and call it a "frivolous" appeal. You wonder on which grounds the FA is actually appealing. The appeal itself sends the wrong message, considering that the FA is supposedly the custodian of the "beautiful game". What Rooney did is neither beautiful nor part of the game. Is the FA appealing because it is a continental competition or because Rooney is seen as "indispensible" to the team? No matter how you look at it, the FA is not taking its own medicine well; and to appeal against this ban will send the wrong message. Let's see what the FA will do when teams in the premier league start appealing red cards left, right and centre.
As if the Rooney episode is not enough, the England captain, John Terry is embroiled in an allegation of making racist remarks against Anton Ferdinand, a fellow professional. This could not have come at a worse time for the FA; a week after Patrice Evra accused Luis Suarez (Liverpool) of making racist remarks towards him during their fiery encounter at Anfield. The common gender here is that both accused are "innocent until proven guilty", and rightly so. After depriving the whole African Continent and Ghana in particular, of the chance to a world cup semi-final (not wholly though), you would think that there are better ways to repent (that is if he is guilty).
Before he instructs his lawyers to serve me with a writ, I hasten to add that it is an "allegation". If only he had heard the amount of expletives that was rained at him from the continent on that day. Interestingly, Suarez is reportedly asking Patrice Evra to apologise to him for the allegation, even though he is yet to be interviewed by the FA. It is also fascinating that the Evra-Suarez issue happened a week earlier than the Anton and Terry show. But investigations for the latter are already underway by police and the FA. No wonder Ian Wright, an Arsenal legend feels that the "FA doesn't have the …..to stand up to Terry". Wright believes that Terry should be suspended while investigated; like in any other walk of life. Sadly football and footballers are not any walk of life. They are not only pre madonas but fast becoming protected species.That beside the point.
Racism is a child of ignorance. It's not born, it's taught. We learn it from our parents and the others around us. John Terry has vehemently denied the accusation and old footballers like Paul Scholes and Paul Ince have vouched that he is not a racist. You would think that his team mates who share a dressing room with Terry week in week out would be better placed to make such assertions. On the other end of the spectrum, others have called for him to be banned and stripped of the captaincy if he is found guilty. Terry plays with a lot of black players like Drogba, Kalou, Malouda etc but you wonder why they have been deafeningly silent. Political correctness or is it too hot to handle? Is it any coincidence that Chelsea's recent dip in form started from the fallout? Capello has been shouting from the roof tops about Terry's innocence "until proven guilty"; and rightly so. But considering his position as England manager, you would think that Capello should leave the hosanna trumpeting to others and not appear to be taking sides. He had a difficult decision to make. Leaving Terry out of the friendly matches would have seemed prejudicial and picking him was the right decision. But Capello would do himself a good service if he left the advocacy to others; considering he is the manager who needs to be neutral or seen to be at least.
Capello said that "fans never boo, never. Racist problems between players never exist". Capello may be a good manager but I don't think he is the best judge of that. And this is coming from a man who masqueraded as the high priest of morality when he stripped Terry of the captaincy for off the field shenanigans; only to restore him again for "football reasons". No wonder the police have politely asked him to shut up. Chelsea had a laborious draw against Genk in the Champions League; a team they walloped 5-0 at Stamford bridge the previous week. The Chelsea supporters used the occasion to threaten Anton Ferdinand. Now they have gone one step further and sent him death threats. No surprises there, as we all recall how these same fans ended the career of one of the most respected referees Anders Frisk in 2005, courtesy of flippant and irresponsible comments from Jose Mourhino.
Chelsea as a club seems to feel untouchable and resorting to such thuggish behaviour will not earn them the "love" that they so badly crave worldwide. Manchester United, Arsenal, Liverpool etc have worldwide appeal based on their records, history and brand of football, not loutish behaviour. Unfortunately, the thuggish minority seem to thrive on threatening stupidity and mafia like tactics to intimidate referees, and now players. I struggle to believe that Terry is a racist. People can make remarks of a racist nature without being innately racist. But we should all wait for the FA and Police investigations to take their course. Laundry is the only thing that should be separated by colour; accomplishments have no colour.
Racism is a disease that afflicts the ignorant. At the heart of racism is some misguided religious assertion that God made a creative mistake when he brought some people into being. These people need to educate themselves out of racism, for preconceived notions are the locks on the door of wisdom. To buy into the notion that racism has been kicked out of football or sports in general is as naive as bidding for Big Ben on eBay. The FA and the police investigations need to be resolve this saga as quickly as possible, and not allow it to rumble on into the European championships. But again, England teams have a penchant for controversies and scandals prior to big tournaments. We had the Rebecca Loos VS Beckham, Ulrika Johnson VS Sven, Terry VS Wayne Bridge affairs,(alleged) Gascoigne's dentist chair fame as warm ups for past tournaments. Perhaps this is another déjà vu moment for the England team.
Let me hasten to add that I am not racist, I have a coloured TV.