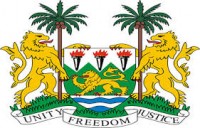 Press Release
At a meeting of the Cabinet held on Wednesday 2nd July 2014, Cabinet inter alia agreed as follows:
(1) that Ministers should donate 50% of their salaries for the month of July 2014 to the fund for the fight against the Ebola virus in Sierra Leone. It was also agreed that 50% of the salaries of the President and the Vice President should be deducted for the same period, and for the same purpose;
(2) that 25% of the salaries of Deputy Ministers should be deducted accordingly.
By this notice, the Accountant-General is hereby informed of this voluntary decision, and to take necessary action.
Signed by E.S.A. SURRUR (Dr)
Secretary to the Cabinet and Head of the Civil Service