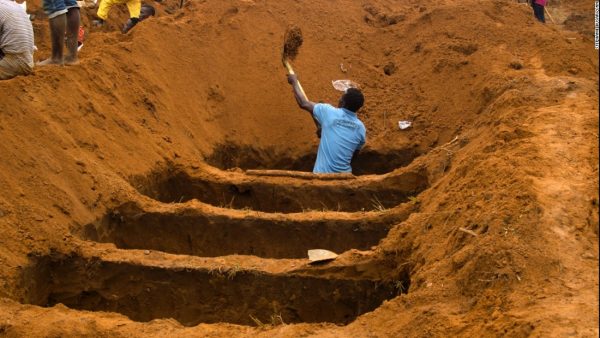 With fist of fury, clenched in despair, I raised my hands to heaven in supplication.
With teary eyes and swollen cheeks, we ask for divine explanation.
In cries of abandonment, for what has befallen us, in our time of need.
In a greed laden world, that is filled to the brim.
There was the mountain, in a crouched posture, for our protection.
Against the elements of nature, that we were supposed to nurture.
But we abandoned our calling, and ravaged the bounty of nature.
And with reckless abandon, we exposed our protection.
Ravaged by war, and devoured by Ebola
We sought refuge in your arboreal bowels.
But we ravaged your entrails.
Slashed and burnt our crown jewels.
We laid threadbare, for nature's elements.
To wreak its havoc, to its heart's content.
We look for answers, to endless questions.
In our endless searched, for greener pastures.
I lulled you to sleep, kissed you good night.
Hoping in the morning, you'd say you slept tight.
I woke up this morning; but can't say good morning.
I told you good night, you've left me in mourning.
With violent fervour, the heavens drenched me with its tears.
With tearless eyes, you washed my face with fear.
You ripped my entrails apart, and left my soul so bare.
You destroyed all in your path, and not a soul to spare.
With anger and sorrow, you rained your tears on me.
With death and destruction, the price you made me pay.
Because I ignored your calls, my mind had gone astray.
With brutish greed, I strove to fill my need.
Yesterday's laughter, alchemized to today's sorrow.
As you ferried bodies, through mud and burrows.
Down into the abyss of tomorrow's sorrows
That I cannot fathom, even in my bone marrow.
With tearless eyes, I cried my soul to thee.
And ask for penance, to show mercy on me.
They fell on deaf years, because I was stone deaf.
And now you give me penance, with morphine of death.
With cries of lullabies, you try to soothe my soul
The cries of faraway will always haunt my soul.
As vanquished nature, has taken control.
But just like you said, to cleanse my soul.
I look to the gods, and ask who's to blame?
You answer in mercy; that the gods are not to blame.
The fault is not in your stars, but in yourselves.
The only song of mercy, I will sing to myself.
For the souls of the departed, we ask for your mercy.
In your infinite wisdom, we ask for your merciful blessings.
To soothe our aches and pains, in your glory
And fill our void with eternal bliss.
My brother, sister, father and mother,
My uncle, Aunty, Cousin and nephew,
My wife, Husband, son and daughter,
Sleep well oh dear, till we meet again.
For the ravages of nature, knows no bounds.
The anger of the heavens, knows no candour
But our sorrows will abound, with timeless rancour
Until death, which has no splendour?