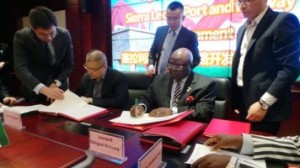 Sierra Leone's Transport and Aviation Minister, Leonard Balogun Koroma has informed officials of China Railway International Ltd, a Chinese company charged with the construction of a new airport in Mamamah, in the Port Loko district, that the airport project is currently a top priority project for the Government of President Ernest Bai Koroma and for Sierra Leoneans and as such the need to see its commencement by end of 2013 or early 2014 cannot be overemphasized.
China Railway International Co., Ltd (CRI) is a subsidiary of China Railway Group Limited (CREC), a super-large integrated construction group that covers survey and design, construction and installation industrial manufacturing and other business.
According to Minister Koroma, the new airport will not only serve as a legacy for President Koroma when he shall have retired, but will also help in boasting economic growth for Sierra Leone. He expressed optimism that, work will start by end of 2013 or early 2014. He however called on the construction company to liaise with the Sierra Leone Embassy in China on matters relating to the project.
In the words of the Transport and Aviation Chief, "the project is time sensitive and we have to complete it by 2017 or before that time. By 2017, we shall be having our next elections and that will mark the end of President Ernest koroma's governance. So, coupled with the economic benefits the new airport will bring to our country, it will also be a legacy of the President. It is therefore, very important for us all to put it on a fast track."
Responding, General Manager for China Railway International, Wang Guo Xin spoke of this company's commitment to start the construction of the new airport. He assured that work will soon commenced. Sierra Leone, Wang Guo Xin said, has a long way to go in the area of infrastructure development but as a company, they "look forward to work with Sierra Leone, especially in the construction of the new airport"
Wang Guo Xin promised to work closely with the Sierra Leone Embassy in China to look at outstanding issues so as to commence work in the coming months.
The Export and Import Bank of China-(EXIM Bank), is the world's third largest export credit agency, with a mandate to "implement state policies in industry, foreign trade and economy, finance and foreign affairs". The vast majority of infrastructure financing arrangements done by China in Africa are financed through EXIM Bank.
Regarding the new airport in Sierra Leone, it has processed a loan of 315 million dollars. Hopefully, by end of 2013, the project will be commissioned by President Ernest Koroma. This will then be followed by resettlement and relocation of communities to be affected by the construction.
When completed, the new airport will help foster Sierra Leone's socioeconomic development, but more specifically will help in opening up Mamamah as there will be more flights, new terminal, provision of electricity and more housing projects.
Monday September 23, 2013