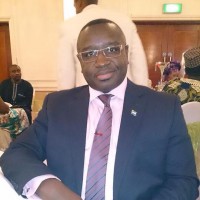 Dear Brigadier (Rtd) Maada Bio,
I have abandoned my usual practice of admonishing you quietly, like I have done in the past to you and others.
You may recall that prior to the election of flagbearer of our party in 2012; I along with two others, called your attention to the unacceptable behaviour of two of your very close supporters, and advised you to keep them under control.
When that did not appear to work, I advised you to denounce them publicly, in order to make it clear that their kind of behaviour was unacceptable in your campaign team.
I know you took my advice, and eventually they both calmed down.
Once again, the unruly behaviour of some people, claiming to be your supporters, has raised serious concern among the membership of the party.
Just like in 2011/12, when they were intolerant of others whom they perceived were not your supporters, and sometimes behaved not just rudely, but violently towards them, that crude and undemocratic behaviour is raising its ugly and detestable head once more.
Sometime after the party's Bo convention, some members of the Susu community who were also party supporters, among them – Madam Yumkella – the mother of Dr. Kandeh Yumkella, visited the new national chairman and party leader to congratulate him.
A group of people, alleging to be your supporters, insulted her with threatening language.
When I was told of the incident, I confronted the group and like the cowards that they were, they denied the allegation completely.
There is also the incident, told of a woman rudely confronting John Oponjo Benjamin, on the occasion of the recent wedding of Chairman Rex Bonopha of the Kailahun district council.
On Friday of last week, the northern regional party secretary was physically assaulted within the precincts of the party office, when he was there on official assignment.
It would be far fetched for anyone to allege that these incidents are done with your consent or knowledge. But their perpetrators are known supporters of yours.
You and your supporters must, as a priority, begin a massive campaign about democracy, and especially, of the right to disagree or to follow a different path.
While these crude behaviours may not destroy your popularity, yet they have the propensity to taint you.
It would not be enough to declare that you did not send them. You and your advisers should, and must identify the unruly elements and throw them from your camp, because they are of no asset to you.
Quite a number of them may not even be registered voters, as is often the case.
Finally, whatever your feelings may be about any individual, the party looms higher than you and they, and your motto should be, that you'll do anything legitimate and proper to promote our party.
Yours Sincerely
Dr. Sama Banya – alias Puawui