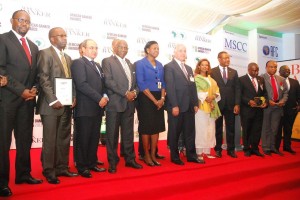 ARUSHA, Tanzania, June 6, 2012/ — Africa's Top Bankers gathered in Arusha, Tanzania, to celebrate the 6th edition of the African Banker Awards, under the patronage of the African Development Bank (http://www.afdb.org). They reward outstanding talent and achievement in Africa's financial sector.
Among those who attended this prestigious pan African event, which for the first time was held under marquees on an open field in the shadow of two of Africa's most magnificent mountains, Mt Meru and Mt Kilimanjo were the Ministers of Finance of Djibouti, Guinea, Rwanda, Senegal, as well as a number of central bank governors and high profile bank CEOs.
As the 450 guests enjoyed their dinner in one of East Africa's most spectacular landscapes, with the world-famous Ngorogoro national park only a few hours drive away, Omar ben Yedder said : We have recognised some superb individuals and institutions tonight. Africa's financial sector is a major vehicle for driving the economic growth that has become the talk of the investor community around the world. We have honoured individuals who are prepared to take the bull by the horn, to carry out well thought out visions and who have raised the bar and in some cases taken difficult decisions to deliver on their agenda. Good examples are the Central Bank Governor of Tunisia and the Finance Minister of Guinea. The winners this year represent a good mix between francophone and Anglophone Africa, big and small countries. They reflect the achievements in banking and finance all over Africa."
Perhaps the most moving episode of the evening came when Ecobank CEO, Arnold Ekpe, now regarded as a living legend among the continent's bankers, was presented with the Lifetime Achievement Award by the founder and chairman of IC Publications, (publisher of African Banker), Afif Ben Yedder. Ekpe was given a standing ovation. Ecobank had more reason to celebrate the evening, when the Togo based African multinational beat a very strong challenge to emerge as the Bank of the Year.
There were more cheers when Ethiopia's Dr Eleni Gabre-Mahdin, founder and managing director of the Ethiopia Commodity Exchange was named as this year's African Banker Icon. She follows in the footsteps of Ngozi Okonjo-Iweala and Adebayo Ogunlesi who were previous winners.
Olusegun Agbaje, Managing Director of Guaranty Trust Bank, Nigeria scooped the prize for African Banker of the year. He was presented with his Trophy by Tim Turner, Director of the Private Sector Operations of the African Development Bank at the picturesque Frangipani Gardens, where the Awards ceremony took place.
The Best Regional Bank winners from each of the five regions of Africa were: Attijariwafa Bank, Morocco for North Africa; BGFI, Gabon for Central Africa; Bank of Kigali, Rwanda for East Africa; Access Bank, Nigeria for West Africa; and BCI, Mozambique for Southern Africa- thus highlighting Africa's diversity but strength as one continent.
The African Banker Awards are organised by African Banker magazine, IC Events and BusinessinAfrica Events. It is a landmark event that celebrates excellence and best practices in African banking and finance.Mediterranean Smart Cards Company (MSCC) is the Platinum sponsor for this year's African Banker Awards. Other sponsors include Bank of Industry, Harland Financial Solutions, Ecobank Nedbank Alliance, Giesecke & Devrient, Air Charter Logistics, AfreximBank, Africa Re, Africa Finance Corporation, and the Tunisian based BIAT.
About the African Development Bank
The African Development Bank (http://www.afdb.org) is a multilateral development bank whose shareholders comprise 54 African countries (Regional Member Countries – RMCs) and 24 non-African countries (non-Regional Member Countries – non-RMCs). The Bank Group's primary objective is to contribute to the sustainable economic development and social progress of its regional members, individually and jointly. This objective is met by financing a broad range of development projects and programmes through: (i) public sector loans (including policy-based loans), private sector loans, guarantees and equity investments; (ii) providing technical assistance for institutional support projects and programmes; and emergency assistance grants. The Bank Group approvals in 2010 amounted to $6.5bn. www.afdb.org
Through its private sector window, the AfDB provides a range of financial products to the private sector to complement its traditional lending operations to governments, including financial and technical assistance for viable projects. Private sector project approvals as at the end of April 2011 reached $7.7bn. Infrastructure, especially energy, is the core of the Bank's private sector operations priorities.
About the African Banker magazine :
African Banker is the only pan-African magazine dedicated to banking in the continent. Launched in 2007, African Banker reflects Africa's rapidly growing finance and banking sectors. **African Banker** is published in French and in English to comprehensively cover the entire continent. It has become an essential tool of the people and institutions that pull the strings in Africa's banking and finance industries. In line with its commitment to banking in Africa, African Banker organises the African Banker Awards to reward the people and financial institutions that are making a big impact on improving the banking industry in Africa.
About IC Events – IC Publications
IC Publications has over 50 years' experience in publishing magazines, newsletters, country supplements, industry reports and market intelligence on Africa. Our market-leading titles (African Business, African Banker, New African, and New African Woman) are published in both English and French, with a combined global readership of over 2 million.
IC Events was established to complement IC Publication's publishing arm. Together with its dedicated team of specialists and extensive network of contacts, IC Events tailors innovative forums, roundtables and workshops responding to the most pressing issues in Africa. IC Events' activities are 100% results-driven, bringing together major stakeholders and partners involved in the topics tackled to achieve concrete action plans.
About BusinessinAfrica Events (BIAE) : BIAE is a leading UK-based business communication company specialising in live events, public relations, media relations and reputation management for corporate clients, regulatory agencies and governments, with a focus on Africa.