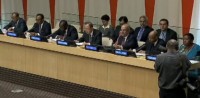 Every year, five UN offices including the African Union's (AU) New Partnership for Africa's Development (NEPAD), office of the Special Adviser on Africa, the Economic Commission on Africa, the Africa Peer Review Mechanism (APRM) and the Department of Public Information organize comprehensive program activities around the General Assembly Debate on Africa, to help raise awareness of NEPAD and advancing development in the continent.
As part of the activities, a dialogue with the Diaspora, NGOs, youth & women's groups, media & academia on "APRM@10: Perspectives on Transformative Governance and the African Union Vision 2063 Agenda" moderated by Dr. James Braxton Peterson, Director, Africana Studies at Lehigh University and a parallel Roundtable Discussion on "Domestic Resources Mobilization in Africa" were held Thursday, October 25 at the UN Headquarters in New York.
Special Adviser on Africa, Under Secretary-General Mr. Maged Abdelaziz told reporters at a press conference Wednesday that the observance of Africa week this year is very important because it coincides with the 50th anniversary of the AU, the 10TH anniversary of the APRM and the establishment of the 10th anniversary of the office of the Special Adviser on Africa.
In his opening statement, Chief Executive Officer of the NEPAD Planning and Coordinating Agency, Dr. Ibrahim Assane Mayaki said NEPAD being the development agency of the AU has a specific mandate on implementation on regional and national level in domains relating to agriculture, transportation, energy, education and health.
"In the last ten years, Africa has changed enormously but there are still very strong challenges. It has change because six of the ten fastest growing economies in the world are in Africa. There are still challenges as seven of the ten most unequal economies in the world are also in Africa, so poverty is still high," Dr. Mayaki said adding that transformation has evidently taken place through improvements in governance and APRM is a sound illustration of these improvements,
Dr. Mayaki emphasized agriculture and infrastructure are NEPAD's key pillars citing Africa's first major road project the 4,500 kilometers Algiers-Lagos highway, which he said will be completed next year and the implementation of a comprehensive agriculture of the continent which he said is investing more public resources, empowering small scale farmers the majority of whom are women . He also highlighted ongoing development of fiber optics and the production of natural gas in the region.
Preceding Wednesday's media briefing, a high-level panel discussion "Africa's Innovation in Governance through 10 Years of the APRM" chaired by Under Secretary-General Abdulaziz was held Monday to commemorate the official launching of the Africa Week 2013 and observance of NEPAD's 10th anniversary.
During the panel discussion, UN Secretary-General Ban Ki-moon praised the process for strengthening national accountability and paid tribute to 17 African countries that have completed their "self assessment and peer review."
"The APRM has deepened a democratic political culture among African governments. It has fostered more principled leadership and constructive national dialogue. And the peer review process has opened up greater space for citizens to participate in the decisions affecting them," said Mr. Ban
APRM currently has a roster of thirty-three (33) participating countries which include Algeria, Angola, Benin, Burkina Faso, Cameroon, Chad, Djibouti, Egypt, Ethiopia, Gabon, Ghana, Kenya, Lesotho, Liberia, Malawi, Mali, Mauritania, Mauritius, Mozambique, Niger, Nigeria, Republic of the Congo, Rwanda, Sao Tome & Principe, Senegal, Sierra Leone, South Africa, Sudan, Tanzania, Togo, Tunisia, Uganda, and Zambia.
Seventeen of these countries have completed their self-assessment exercise and have been peer reviewed by the Forum of Heads of State and Government (APR Forum).
The weeklong celebrations will conclude Friday, October 25 with an all day General Debate on Africa at the UN General Assembly Hall in New York.