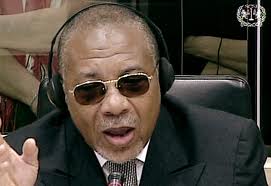 The UN backed Special Court for Sierra Leone says it is yet to set an exact date for the handling down of its verdict in the Charles Taylor's trial, though it said it could be next month, January 2012.
Taylor is facing eleven counts of war crimes and crimes against humanity and other serious violations of international law, for the war in Sierra Leone.
The arguments in his trial ended some eight months ago after a three and a half year of proceedings. Since then the court is yet to decide whether evidence presented during the trial indicates Taylor's guilt or innocence.
The UN backed Special Court for Sierra Leone Communications Director Peter Andersen told this paper via telephone Thursday that he could not give an exact date for the ruling but it could be early next year.
Mr. Andersen said this was so because the court had earlier planned to give its ruling in September of this year but that was pushed to October and later December and as it stands the court is now thinking of early next year, which is January but again warning that he could not be definite.
Mr. Andersen had informed this paper in an earlier publication that the delay in the trial's verdict is related to the more than 50,000 pages of transcripts, the 1,100+ exhibits, and other matters relating to the judicial process.
The judges received all of the evidence tendered by the parties–amounting to testimony from 115 witnesses and 1097 exhibits.
There had been speculations that the delay was tied to the just ended presidential and legislative polls in Liberia. But Andersen in an email in October that it was only an unconfirmed report.
"Also, if you have "unconfirmed reports" that the judges are taking the Liberian elections into consideration, and then I can only say that it is "unconfirmed speculation" by people not close to the court. Those of us here know that the delay has nothing to do with politics," Mr. Andersen added.