By Betty Milton, AWOKO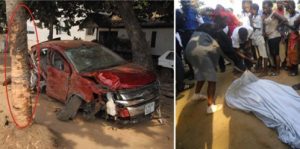 What started as a woman 'palava' between hip hop artist Alhaji Bah aka "LAJ" and a music promoter popularly called 'Big Fish' has resulted in gun shots and a fatal accident leaving three people dead at Lumley Beach.
The incident reportedly started at the popular night club "The Office" at around 4am Saturday (14/1/12) morning when the girl friend of "big Fish" is said to have walked over to "LAJ" where the two of them had a short conversation. This according to a young lady, (name withheld) who was in the company of 'Big Fish' reportedly angered 'Big Fish' who then went across and exchanged heated words with "LAJ".
The two men and their followers then got involved in a fight, where "Wannie" who is a friend of "LAJ" had his ear bitten. At this point the security and management of the "The Office" intervened and stopped the fighters. "Wannie" however appeared not to be satisfied with the outcome and decided to go to the Lumley Beach Road Police Post to register his complaint. Around 7am, the two feuding groups then left in their vehicles with "LAJ" in a black jeep with no registration plates and "Big Fish" in a maroon coloured Nissan Saloon car with registration number NUM 001.
Unconfirmed reports say that the maroon coloured car fully packed with "Big Fish" and his supporters sped along the beach road and allegedly attempted to hit "Wannie" who was busy explaining how his ear got bitten in front of the Police Post. Apparently, the black jeep containing "LAJ" was not far behind and witnesses say it was at this point that they came alongside vehicle carrying 'Big Fish' and allegedly "LAJ" came down his vehicle with a pistol in his hands and fired six (6) shots two of which were reportedly aimed at the tyres of the vehicle containing "Big Fish".
Witnesses say that the driver of "Big Fish" car attempted to swiftly turn the car around to face where they were coming from. However, with the two tyres down his attempt to maneuver the vehicle failed and he ran into a coconut tree standing in front of the Police Post and the heavy impact over turned the vehicle. In the process, two passengers in the vehicle who were on the side of where the greatest impact occurred subsequently died and also while somersaulting an innocent employee of Guoji Construction Company Mustapha who was on his way to work was hit and subsequently killed.
One of the dead was later identified as "Sarkatie" who is not the popular artist, but who is a friend of "Big Fish". Meanwhile according to reports immediately after the incident "LAJ" headed for the Congo Cross Police where he made a complaint. God Father of Sierra Leone Music Jimmy Bangura aka "Jimmy B" condemned the violence that has invaded the music industry.
He said "people need to stop this violence this is not our culture the culture of violence and guns and all of that is not of our country, it is more of the West than the third world countries." He went on "our culture is more of peace and music is supposed to be about peace preach about peace love and unity amongst people not destruction not killing of each other not trading insults not singing songs that are degrading women."
Jimmy B lamented developments in the music industry saying "I am very disappointed obviously, my coming back home to Sierra Leone was to help energize the industry that was almost very dormant and to sort of uplift the spirit of my people and give chance to those who are less fortunate than I am in terms of music and we started well unfortunately now things have changed we have got people who are not without any idea of what the music industry is all about coming in as executive and basically no sensitizing the youths or the kids that they are producing the kind of conduct they should have or their behavior in terms of public behavior or the kind of music they sing about its really crazy right now I am not happy about the incident I am not happy about the way the turns of events in the country."
At the time of going to press several people were in police custody helping with them with investigations.