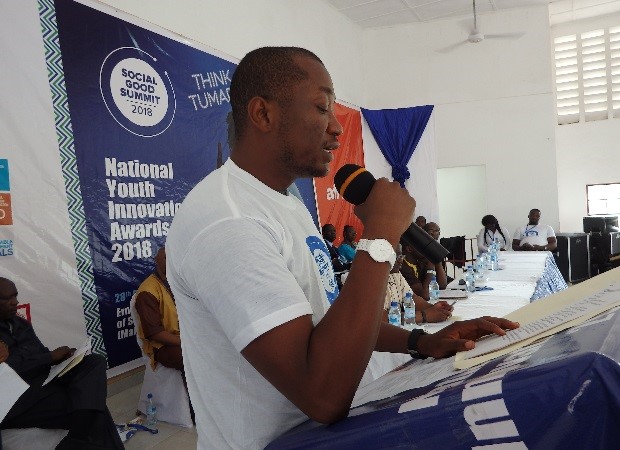 Sierra Leone's Deputy Minister of Youth Affairs, Hon. Lusine Kallon has called on young people to participate in national governance.
He made this call in Magburuka, Northern Sierra Leone during the 2018 national youth innovation awards which brought young innovators and artistes together.
See full speech below:
Mr. Chairman
UNDP Country Rep
Other Development Partners
Distinguished Ladies and gentlemen
Permit me to stand on existing protocols and say morning to you all
Let me use this opportunity to thank the UNDP for organizing this great event. On behalf of my boss and the entire management and staff of the Ministry of Youth Affairs, I salute you for being a dependable partner.
This is a very important week, month and year in the history of the United Nations. World leaders have gathered in the United States of America to attend the 73rd session of the UN General Assembly.
They are gathered to debate on the theme:  'Making the United Nations Relevant to All People: Global Leadership and Shared Responsibilities for Peaceful, Equitable and Sustainable Societies.'
This year, our world leaders will be focusing on 7 key priorities, namely: promote gender equality; promote and implement new global compacts on migration and refugees; highlight innovative thinking around the future of work; effort to protect the environment, particularly plastics pollution; raise awareness on persons with disabilities; implement the reform of the UN system; and promote peace.
We in Sierra Leone are joining the UNDP to participate in a Social Good Summit. This is a platform where big ideas meet new media to create innovative solutions. In the midst of this rapidly changing world, the Social Good Summit focuses on where we are headed.
One of the key importance of this summit is that, it unites a lively community of global citizens and progressive thought leaders around a common theme: 2030NOW.
This summit will not only help us to have a better world, but will also focus on how we can unlock technology's potential to make the world a better place.
The Social Good Summit is here to promote a stronger engagement with the private sector in order to achieve the Sustainable Development Goals. It further creates the conditions for effective partnerships.
As a Ministry we are open to any further partnership that will better the living condition of our youth. The youth are the bedrock for sustainable development and our Ministry is on the lead to make this achievable.
Mr. Chairman, we cannot achieve the Sustainable Development Goals without young people. The SDGS are the blueprint to achieve a better and more sustainable future for all. They address the global challenges we face, including those related to poverty, inequality, climate, environmental degradation, prosperity, and peace and justice.
We are calling on young people to utilize the opportunity in their favour. We are ready to create the platform and also throw the challenge to our youth. We are here to bring a change and allow young people to participate in national governance.
To demonstrate this, we have just launched the National Youth Service which has provided job for 200 young graduates. At the end of the year, one thousand young graduates will also benefit from this. This is a unique opportunity we must support.
We are saying no to drug abuse and misuse. We are saying no youth violence. We are condemning the use of our youth for selfish political gains. The time is here and the New Direction is here to tell the world that Sierra Leonean youth can do it better.
I am now calling on you all to support us. We cannot do it alone but we are certain that positive change is here.
I thank you all for listening.