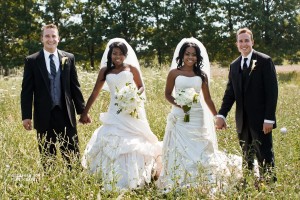 Adopted twins Teyolla and Keyolla Loux do everything together. Teyolla and Keyolla even married together. The Loux twins married the Crow twins, Eric and Shawn. Teyolla married Shawn, and Keyolla tied the knot with Eric. The twins, originally from the Marshall Islands, won the hearts of their foster parents Reneé and Derek Loux. At the wedding, the twins sported matching long white beaded dresses with ruffles at the bottom. Surprisingly, though, their shoes were different. The grooms wore matching tuxedos as well.
Although the Loux twin's foster father Derek has passed away, Reneé still continues to adopt children and raise them in the memory of her deceased husband.
Interracial dating is increasing over time, and bi-racial children are even fighting for their own ethnic identity. But what do you think? Does interracial dating increase the number of identity challenges experienced by couples and children, or can it be as healthy as any other kind of relationship?
No matter how you slice it, we're happy for the two couples, and are glad that they found love, even if it appears to be a bit awkward. Have you ever seen anything like this?
Congratulations to the happy couples!