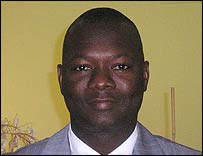 News filtering into this outlet suggests that His Excellency President Ernest Bai Koroma is poised to announce his Running Mate this month. Contrary to earlier predictions of Dr. Morie Manyhe, Musa Tarawally etc., it looks like His Excellency is in to make a more attractive choice.
Some senior members of the ruling APC are said to be less-secretive in informing their relatives that a decision has finally been reached to replace the incumbent Vice President, Alhaji Chief Sam Sumana. President Ernest Bai Koroma is now free to go ahead and choose his Running Mate for the November 17 Presidential elections. From all indications, it appears that the first-ever Chief Of Staff at State House, Dr. Kaifala Marah will emerge as President Ernest Bai Koroma's Running Mate.
Dr. Kaifala Marah, just like former President Kabbah, has dual backgrounds. His parents hailed from Koinadugu District but he was born in Koidu City in the Kono District. He schooled in Kono before proceeding to Fourah Bay College, where, he graduated with a Honours degree. He did his Masters and Doctorate degrees at a prestigious University in the United States of America. After graduation, Dr. Kaifala Marah worked as a Budget Analyst at the State Senate of New York and as a Graduate Fellow at the Centre For International Development in New York, USA.
Before his appointment as Chief of Staff at State House in July 2010, Dr. Kaifala Marah worked as Adviser Public Expenditure Management at the Commonwealth Secretariat in London.
The people of Kono will always remember him for the astute leadership he exhibited when he served as Deputy Town Clerk at the Koidu New Sembehun Town Council. On many occasions, he served as Acting Town Clerk. He was also President of the Kono Students Union (KONSU).
Dr. Kaifala Marah became Chief of Staff at State House when President Ernest Bai Koroma decided to scrap the Ministry of Presidential Affairs. He is highly respected by Sierra Leone's development partners.
Another ideal candidate for the top job, Hon. Chernoh Bah popularly known as Chericoco is being highly favored by some influential members of the party but he seemed overweighed by Dr. Marah's enviable CV.