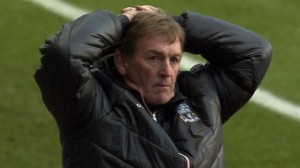 As legends come, you cannot get a bigger living football legend on the banks of the River Mersey than Kenny Dalglish. Kenny Dalglish had returned to manage Liverpool Football Club for a second time, following the departure of Roy Hodgson in January 2011; initially on a caretaker basis till the end of the season. His recovery job saw the club moved from 12th.to sixth by the end of the season; mercy pride restored as wide eyed Liverpool supporters savoured "the return of the messiah". His dramatic turn of results and events was greeted with hopes of better days to come and this lead to him securing a three year contract. With contracts signed on high octane hopes, Merseyside was back where it belonged. Things were looking up as the purse strings were loosened with reckless abandon by the American owners. Andy carol, Jordan Henderson, Charlie Adam and Stewart Downing became his first high profile signings, signalling his intent to invest in youth; as the restoration job began.
With a total of £100 million spent on new players, the stage was set for high expectations of a celestial proportion. It goes without saying that with such an outlay on players, the minimum requirement was set as a place at the Champions League dinner table. You cannot say that Kenny did not know the yardsticks for his managerial tenure at the club. Dalglish may have achieved a near immortal status in the eyes of the adoring but blinkered Liverpool fans. With 515 appearances, scoring 172 goals and winning 3 league titles as player manager, it is easy to see why he maintained such messianic status.
But that is where the whole problem with the club and its followers lies buried. As a club, Liverpool dominated the football scene in the 80s at both domestic and international levels. Sadly and ironically, the club seems to be trapped in a time warped period of glory. It has been a long time since a club of such stature raised its head above the parapet. The mere aim of gaining a place in the Champions League as a mark of success is in itself, a lowering of standards and ambition. But with the amount of money peddled in this prestigious tournament, you can see why it takes premium rating. There is no doubt that history will always have a place in the present and future. But the club and fans must spend less time wallowing in past glories and try to rewrite history. The fans fail to realise that in spite of the club's lofty records, it has NEVER won the Premier League title since its inception twenty years ago. Liverpool won the title in the last millennium; long before facebook, the IPod, IPad, and the Iphone were invented.
As one fan pointed out, "he unified the club and made Liverpool a football story again". There is no doubt about him unifying the club, but he made "Liverpool a football story again" for the wrong reasons. His handling of the Suarez fiasco made the club a football story again; yea right, but this was a major PR disaster for a club of such legendary persuasion. By allowing himself to run with the Suarez issue, a distraction in itself, Kenny literally took his eye off the ball. Rather than fighting the battles on the pitch, the club became embroiled in a monumental image reconstruction project, after a worldwide condemnation. Many saw his fascination with the Suarez debacle as a ploy to deflect criticism for the poor results on the pitch.
According to one pundit, Dalglish "is so supportive of his players and in the end I think he took the 'You'll Never Walk Alone too far' (BBC). It will be difficult to disagree with. The question many pundits would want to figure out is how much responsibility will Suarez shoulder for the man who "never let him walk alone" at a cost of his job. Many fans would be worried about whether Suarez would jump ship. Considering that he was the only shining jewel in Kenny's recruitment drive, some fans would be wondering whether Sir Alex Fergusson's tirade that "Suarez should never be allowed to play for Liverpool again" will come to pass. Steve Clark, a member of the backroom staff has resigned in protest. Will Suarez do the same in loyalty? Probably not if it's written in pounds sterling.
Dalglish said "of course I am disappointed with league results but I would not have swapped the Carling Cup win for anything". You would think that after spending such an amount on players, Kenny should have asked his employers about their priority before rubbing insult to injury for such a dismal season. John W. Henry, the front man for the Fenway Sports Group that owns Liverpool insisted at the start of the season that "Our main goal is to qualify for the Champions League. If we don't, it would be a major disappointment". Sorry Kenny, but your employers want to go to places like the Bernabeu, Allianz and Amsterdam Arena, Parc des Princes, Stadio Olimpico or even Old Trafford. Today's modern day football does not begin and end with a day out at the Wembley Stadium. With semi finals, finals and play-offs regularly held on this hallowed turf, a visit to Wembley no longer holds the "Holy Grail" feel factor. A preference for the Carling Cup must have been an ominous sign of contradicting priorities with his employers.
Many people will feel that Kenny has been lucky to have kept his job till the end of the season. Football today is all about results, and attractive football counts for nothing if they don't reflect the league tables; just ask Villas Boas. Finishing 37 points behind their arch rivals Manchester United, one place below their tribal enemies (Everton) and with the worst points tally in 50 years is too painful to massage with a Carling Cup trophy. With the lowest position for 19 years, Kenny would have been sacked long ago had it not been for his past connection with the club; Rafa Bennitez was sacked for a far lesser crime. Although many fans have appeared to be surprised by the action of the American owners, there is a subtle message here that those fans need to wake up to. With Dalglish as one of the last vestiges of the old order gone, the time for a new order has commenced; and the fans need to know and accept that.
The days of the communities' romance with sports and football in particular are gone. The days when football used to be for the communities and by the communities are long dead in the water. Football is now big business with share holders and stock market artisans. It is now about profit making, and it is not surprising that at face value, you would be forgiven to think that it is the play thing for billionaires like Abramovich, the Glaziers and the Sheiks at Manchester City. In football today, results mean business as Chelsea have unenviously demonstrated; going through 7 managers in 8 years. The influence of supporters on their clubs is fast diminishing. Man Utd supporters protested against the Glaziers till the cows came home and got zilch. These owners know that in these turbulent economic times, sports and especially football has become the opium of the masses and the depressed; an emotional vent.
As the search for Kenny's replacement begins, names like Swansea Boss Brendan Rogers, Alan Pardew, Rafa Bennitez and Andre Villas-Boas have been bandied around by book makers. It is very easy to see why Pardew and Rogers feature highly in some people's estimation. These two managers have had an outstanding season in their own rights. But as the saying goes, "one swallow does not make a season", and the "second- season syndrome" is never far away. They were at clubs that had little pressure or expectations. Unlike Kenny, the expectation from their respective clubs was basic survival in the league.
With Liverpool, it will get higher and a different ball game. With the added pressure to massage the readily over blown egos of nowadays "superstars", it is easy to see how it can all end in tears. We saw last season how Villa-Boas, with titles and trophies under his belt at such a relatively young age, could not hack it at Stamford Bridge. Roberto Di Matteo took over with the same team but with different results. Tell me that his short reign had nothing to do with players' egos and I will fry you a stone if you get me some oil. Di Matteo is on the cusp of history to win the Champions League; but even that feat has not nudged Abramovich to offer a seal of approval to date.
As ironies go, Kenny Dalglish replaced Roy Hodgson at Liverpool 18 months ago following a disastrous run of results and league position. Last week, Roy Hodgson was appointed to the highest post of football in the land as England Manager. This week, Kenny was sacked from the job he took over from Roy. Today, Roy named his England Squad for a holiday that will pass for a tournament. Football has a funny way of evening things up. Who said football is not a funny old game? Lest I forget, I have been quiet about the incredible English Premier League football season that ended in the mother of all dramas. You could not have written the script. But as a Manchester United fan, I am sure that you will see the need for a period of convalescence before I can put pen to paper. Not to worry though. A post mortem of the whole Premier League season is on the way.
Please turn the lights off before you leave the room.