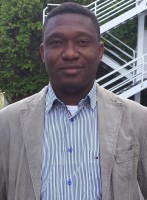 Ebola is a dreadful virus. Though some of us are no professional medics, but we can perceive, smell, sense and digest the destructions cause by it and could draw conclusions based on existing facts on the ground. No matter how much resources dedicated to the war against Ebola, we could sense that only a true Ebola vaccine can actually eliminate it for good. What is more dreadful about it so far, is the fact that such vaccine has not yet been successfully developed by word's scientists. Using trial drugs such as ZMapp can only cure infected people. But that cannot stop the further spread of Ebola in the Mano River Union region and beyond. In addition to that, even if the vaccine and true cure can be found today, the virus cannot be quickly eliminated without administrative commitment, most especially from the part of local authorities in the affected regions.
The virus has attracted world's attention as it continue to claim more innocent lives in Sierra Leone, Liberia and Guinea. Global efforts to combat it has become more herculean than any other disease in our life time. While the World Health Organization (WHO) and other aid agencies strive to underpin governments across the Mano River Union to combat the virus, it seemed to be taking different unpredictable forms to claim innocent lives in both urban and rural areas. But why is the disease gaining more grounds regardless the millions of dollars and thousands of foreign experts dedicated to the fight against it? A true answer to that is what I have been trying to unearth in Kenema, eastern Sierra Leone.
Kenema is one of the cities currently besieged by armed police and soldiers in an effort to stop Ebola. Entrance to and exit from Kenema city is only allowed for essential government workers and aid agencies who carry official permits issued by relevant authorities. The city is quiet though but its inhabitants are living in constant fear and anguish after witnessing countless number of deaths and sorrows caused by Ebola. The 307 kilometres distance between Freetown and Kenema can no longer be driven in few hours' time as peaceful drivers and passengers are subjected to temperature checks by local medical personnel. There are buckets of chlorine contaminated water deployed at the checkpoints which every road user is forced to wash hands with before driving through.
There is pervasive calm in Kenema city. While walking through the streets, one could see bank clerks and cashiers using disposable gloves; private homes and government offices using chlorine contaminated water; and every inhabitant is now fun of the slogan: "don't touch". The Ebola epicentre has been relocated from Kenema Government Hospital to the outskirt of the city. World Food Program (WFP) is supplying food to some households across the city after a long period of famishing and besiege. What still remain dreadful however, is the ominous shadow of the Ebola burrier team and Ambulances. Whenever they appear with the attention grabbing emergency lights and cacophonous sound of the siren piercing through the eardrums of poor inhabitants, one could see everyone watching with curious and sorrowful eyes, knowing that they (ambulance and burrier tem) were either carrying Ebola patients or dead bodies, which signifies the stubborn nature of the killer disease and its continues existence in the country regardless the huge presence of both foreign human and financial supports. This triggers the question why the war on Ebola remains unpredictable? Are we going to win it at all?
Over the past weeks, I have been able to investigate things in many ways including interviewing people in high places and talking directly to people who are believed to have survived Ebola. My findings proved that the war on Ebola has become more complex than the past civil war and winning it require more efforts beyond foreign aids. While working on survivors' stories which I shall be publishing in this column in due course, I would like to focus this piece mainly on the complex nature of the war on Ebola and why winning it shouldn't be predicted.
Incompetent leadership versus Ebola virus
With the help of international community, Sierra Leone government is now disbursing billions of Leones on a weekly basis to local personnel who are believed to be engaged in the fight against Ebola. The President, Ernest Bai Koroma and his Ministers who are based in Freetown might think it's all perfect in the interiors, and foreign experts who have come in to help might be busy building medical infrastructures and providing standard medical services at epicentres, but greater part of the war remains in the hands of local administrators such as district health officers, medical task forces and local authorities who are charged with the responsibility of sensitizing the local populace, enforcing Ebola preventive laws, contact tracing, initial diagnose of suspected cases and reporting on the reality of Ebola on the ground.
But when keenly observed situation so far, one could sense a lot of loop wholes which shouldn't exist in the fight against such a killer virus. And if things continue as they are, the war on Ebola, may the lord forbid, might last for endless time. The death of 53 years old Henry Mannah, born of Ngiehun Kojo, Malegohun Chiefdom, Kenema District which took place on past Friday night, was a glaring prove of lack of competent and caring leadership in the war against Ebola. I usually called the deceased man uncle Mannah; we are remotely related. I waved him in a far distance two days before his death. He was leaning on his motorbike at the Total fuelling station, Hangha Road in Kenema, while I drove past by him. My investigation into Mr. Mannah's death has revealed more than expected.
According to close relatives, Mr. Mannah's death is directly related to the death of Mr. Momoh Rogers and nurse Hawa Rogers who succumbed to Ebola several weeks ago. The Rogers couple had contracted Ebola after the late Mrs. Rogers, who was a medical nurse, offered to give care to a new born baby who lost its mother to Ebola just after delivery. The child is said to had earlier proved Ebola free after laboratory test. Rendering care to the orphan child had served as death warrant for many good people including nurse Hawa Rogers and husband, Momoh Rogers.
Mr. Mannah's wife is said to be related to the deceased mother. She decided to take care of the alleged Ebola child after nurse Hawa's untimely demise. Mr. Mannah earlier rejected the child and separated bed with his wife for several days, but cultural and traditional interventions reconciled them when the child died two weeks later. Was it buried by the designated Ebola burrier team and in appropriate manner? I wish I know…
Mr. Mannah died last Friday, 10 October 2014 after a short fever attack. Sympathisers who visited his compound have confirmed that his wife was also sick and hardly walked without being aided by relatives. Two different laboratory tests have confirmed that Mr. Mannah died of Ebola. While the laboratory test was in progress, I saw from a far distance influx of sympathisers and direct relatives into the bereaved premises. His motorbike, which is yet to be decontaminated, was inherited on the following day by his elder son who was busy riding it throughout the day to organize his father's burrier. The widow is said to have fallen sick before her husband's death and was being aided throughout by concerned relatives. Till 10:30 local time yesterday, the Ebola infected premises remained unquarantined and relatives and sympathizers who visited the premises over the past days are still roaming freely in the community.
Instead of sending an ambulance to fetch the sick widow, hospital authorities invited her to go for Ebola test. She couldn't make it to the hospital; she then took a commercial motorbike, the rider of which was never identified. The Ebola widow has been proved positive and taken to the epicentre at the outskirt of Kenema.
The Ebola infected house has been quarantined at last with very few people in it since most of the inhabitants had disappeared into the community, obviously with Ebola.
Knowing fully well that Ebola can be contracted through bodily contact with, or substances touched or used by infected patients, a concerned individual would like to know why did the authorities allowed the alleged Ebola child to freely exist in the community for so long? Even though the child was earlier tested Ebola free, one would like to know why it was never isolated and placed under special observation? Why the late Henry Mannah's premises remained unquarantined for complete 4 days after his death? What has been done to trace all those who visited the premises in the past one week? Where is the commercial bike rider who backed the sick widow to the hospital? Ebola infection is not a theft case, it's a real threat to community wellbeing. As long as the late man has been proved Ebola victim, why was his sick widow still being treated as an unconfirmed suspect? Why inviting her to walk to the hospital even though there are ambulances for that purpose? We know that the epicentre has been relocated to the outskirt of the city in order to minimize risks, why inviting the sick widow, an already known Ebola case, to report herself to the non-Ebola hospital?
Cultural traditions versus Ebola virus
Not long ago, President Koroma addressed the nation after a 3 days nationwide lockdown spearheaded by the Ministry of Health and Sanitation in collaboration with the Ebola Emergency Operations Centre, referring to it as a great success in the war against Ebola. A major objective of the lockdown was to sensitize the whole country about Ebola and to restore confidence and trust among the local populace. It was claimed that preventive messages had reached every household especially in the interiors. But recent developments in some interior parts of the eastern region have revealed how ineffective was the lockdown and less-informed the interior dwellers are about Ebola preventions.
According to a senior medical nurse attached to the Nexon Memorial Hospital at Shegbwema in the far eastern province who introduced herself to me as an Ebola survivor, the Ebola virus had crossed the boarder from neighbouring Guinea into Sierra Leone through a traditional healer called Sowei Mamakoh. Sowei Mamakoh is said to had doubled as chief initiator of Female Genital Mutilation (FGM) and a herbalist who was believed to know herbs that can cure every sickness. She admitted a Guinean Ebola patient in her premises and began treating her with traditional herbs. She (Sowei Mamakoh) fell sick and died before the Ebola patient. Giving the fact that she was a revered dignitary in the community according to the FGM tradition, her body was taken to the FGM shrine where rituals were performs for several hours before burial. Sympathisers from surrounding villages including other traditional leaders converged on her funeral for several days. Such rituals usually include singing, dancing and eating. Few days later, inhabitants of the villages began dying in dozens.
Janet, a less informed and poorly prepared medical nurse attached to the health centre at Daru town who had been on family visit in the area, treated one of the patients. She fell sick and died after arrival at Daru and her body was given befitted burial by ignorant colleagues. Ebola began exacerbating across Kailahun District. Hospitals and community health centres became contact points for Ebola. Some families, households and villages were completely wiped off by the virus.
Medical authorities in the region decided to start transporting the patients from Kailahun to Kenema Government Hospital which was equipped with lassa and haemorrhagic fever lab on the ground that there was no serious medical facility in Kailahun district. Ill-equipped, poorly trained and less informed nurses at the Kenema Government Hospital began spreading the virus to their own households in Kenema city.
Regardless all the above nightmare, I was dumbfounded yesterday when I interviewed a security personnel under strict anonymity, who is currently investigating a blatant breach of Ebola prevention law by poor local chiefs, which authorities have classified as a murder case. It's prohibited to burry any death throughout the region without authoritative permission. But traditional and cultural norms seemed to be taking precedence over such law.
An alleged Ebola patient died at Komende Luyama vlage, Lower Bambara Chiefdom in Kenema district after a brief ailment and local chiefs in the village allowed the family to wash the body and burry it traditionally simply because the deceased was respectable figure in the community. Few days later, closed relatives of the deceased who attended his funeral began falling ill and dying. It must be noted that each attendee of such funeral has his/her own relatives who he/she might eventually contact after the funeral, thereby spreading the killer disease to more people. Though the village has been quarantined by armed personnel but who knows how many inhabitants might have escaped already?
Corruption versus Ebola Virus
One of the major causes of the rapid spread of the Ebola virus is the lack of transparency in the war against it. Since the multimillion dollar voucher was published by the Ministry of Health and Sanitation, we at CEN have been questioning most figures in it. Though a writer like myself might not have access to high level documents such as vouchers signed by beneficiaries of the Ebola fund, I managed yesterday to briefly interview a member of the Ebola burrier team upon assurance of anonymity. The 21 years old school dropout who spoke to CEN for more than 15 minutes, is risking his life to collect dead bodies when called upon, mostly at night. Apart from his girlfriend, no member of his family is aware of his participation in the war on Ebola. He is riding a commercial motorbike throughout the day and joining the burrier team at night. He is promised the sum of Le 500,000 weekly which, unfortunately, is signed for and received by someone else while he does the scaring job.
"It was an opportunity for me to be chosen among the countless jobless youths in Kenema to participate in the Ebola burrier team, so I have to cooperate with those in charged, otherwise I would be kicked out" he revealed.
"I'm told that you guys are requesting money from bereaved families before burying their deaths?" I asked him. "Yes" he said, "but the money goes to authorities above" he confirmed. "If we collect without informing them, they would withheld our stipends", the poor youth explained. "Some Muslim families usually request a quick and speedy burrier in conformity with Islamic principles, this is why authorities in charged would then request special payment before burrier. They (authorities) give us the addresses and instruct us to collect the bodies as soon as possible".
The above explained why some families are hiding bodies and burying them at night in order to avoid paying for it. Though some deaths might not be Ebola, but as long as the country is currently besieged by the virus, no situation should be taken for granted.
It must be noted that there are burrier teams in all districts across the country including districts that have little or no Ebola presence and all of them are placed on salaries paid from the Ebola funds.
We have witnessed it in Kenema over the years where families were tasked to pay for ambulance during emergency cases. One of them was Saffie Momoh, a 29 years old school teacher who bled to death after delivery under the watchful eyes of late doctors Khan and Rogers. The Ebola burrier team, if left unchecked, might end up leaving dead bodies to perish in remote villages where the relatives might not afford to pay their demands.
Security betrayal versus Ebola virus
After obtaining special permission from the Emergency Operations Centre in Freetown, some of us are able to travel criss-cross the country without problem. Officially, the pass is free of cost. A major prerequisite is to prove that the holder is an essential personnel in the fight against Ebola or development volunteer who needs to be active regardless Ebola. Non-governmental organizations are generally given preferential treatment. If you don't belong to the community you might think those road blocks are serious measures taken by the central government to end Ebola.
However, my in-depth investigations have proved that there is more to it, as some authorities have transformed the fight against Ebola into a money making scheme. I could see that there are two types of passes in circulation: "pass for money" and "pass for essential duties". While the pass for essential duties is issued by relevant authorities in Freetown free of charge, the pass for money is issued by authorities in Kenema. The pass for money is only granted to those who can pay for it. My own pass (a pass for essential duty) has been challenged twice by securities along the Bo-Kenema high way even though it's issued and signed by relevant authorities in Freetown. This is simply because it doesn't bear the signature of the "pass for money" issuers in Kenema.
I intentionally left my official vehicle at Blama, a city situated along Bo-Kenema high way, about 17 kilometres from Kenema. My intention was to prove how effective the two solid road blocks along the distance are and what is their true significance in the war against Ebola. We were ordered to disembark the vehicle and walk through the checkpoints. I was impressed to see some people being asked to return back because they had no official permits. I could see the driver entering with the police into a shrine-like room covered by palm fibre. We were allowed to pass after they came out laughing. Surprisingly, 3 of the unauthorized passengers who were asked to return back were later spotted in Kenema city buying essential commodities. How did they sneak their ways into Kenema? The one who was brave enough to talk to me revealed that they came through the main road. He further revealed that there are other bypass routes through the forested hill over-towering Kenema city but he and colleagues came through the main road after negotiating with the securities.
I'm frequently plying the Kenema – Blama route while going on project supervision visits in Nyawa Chiefdom. I could see unauthorized passengers queuing in short distances from the checkpoints awaiting night fall. They are neither arrested nor asked to leave. This clearly tells that they are allowed to pass at night.
I crossed the checkpoint along with 7 others who used various types of passes, some handwritten, some typed and stamped. Such passes are said to be issued by the police headquarters and the District Medical Office in Kenema. When I went to the two offices to investigate what prerequisites are fulfilled by applicants before obtaining such passes, money and familiarity were the only answers. A war on Ebola has become a business for some citizens? Do the pass issuers want the Ebola virus to end right now?
In addition to the above, it's alleged that secrurity personnel who are enforcing anti Ebola laws in the region are behaving unethically as villages which have been quarantined in the interiors because of Ebola are being terrified and vandalized by armed securities. Inhabitants of quarantined homes inside Kenema city have been weeping after 21 days quarantine period simply because they had been dating the securities. Is this a reliable force in the war against Ebola?
Look out for Ebola survivors stories in the next days