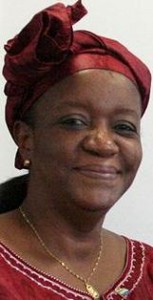 All is not well at the presidential lodge in Sierra Leone as a press release from the office of the United Nations Secretary General, Mr. Ban Ki-Moo, has announced the appointment of the current Minister of Health, Zainab Hawa Bangura, as a Special Representative on Sexual Violence in Conflict at the level of Under-Secretary-General. When President Koroma relocated Mrs. Bangura in the year 2010 from the Ministry of Foreign Affairs to the Ministry of Health amid criticism, many political pundits referred to it as a glaring demotion in reaction to some gloomy activities she allegedly did in the Foreign Ministry. But she quickly refuted the allegation and accepted the new post at the Ministry of Health and Sanitation referring to His Excellency the President, as the man that possesses the power to hire and fire any citizen in public positions.
However, sources closed to the presidency say Mrs. Bangura's recent appointment at the United Nation was received as a shock by President Koroma as he only learnt about her relinquishment plan after the appointment was announced. "Everyone knows that such appointments are not just awarded by announcements, they are granted after exclusive interviews and consultations with the candidates" said a prominent politician on the condition of anonymity. This suggests that Mrs. Bangura might have made several clandestine attempts to grab opportunities at international level as a conduit to relinquish President Koroma's administration and her recent appointment is just one of such.
Regardless the allegations of messy activities in her political life, Mrs. Bangura still command huge respect at diplomatic level as a seasoned public administrator. We wish her a great success in her new position as we view it as a facelift for her home country, Sierra Leone.