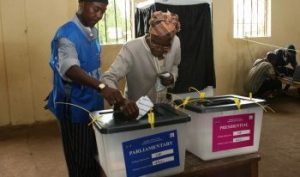 President Koroma has finally announced a date for presidential and legislative elections. But many people, including constitutional lawyers, are frowning at it on the grounds that he was sworn in on 23 November 2012, and therefore, according to the country's constitutional provisions, the president's term of office shouldn't be prolonged beyond 5 years plus a 90 days grace period, which in President Koroma's case, would end in February 2018.
Critics say by pushing back the constitutional deadline for the announcement, president Koroma had already created unnecessary political tension and uncertainty in the country.
But what is now clear, is that legislative and presidential elections will all be held on the 7th March 2018.
According to the president, the voter registration will now commence swiftly to ensure that everyone has the chance to cast their vote next year.
In 2011 the Sierra Leone National Electoral Commission (NEC) purchased hundreds of biometric machines worth about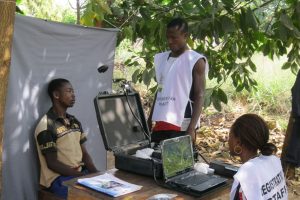 18 million dollars, which were used at the 2012 elections. But few weeks ago, the National Electoral Commission replaced most of the machines with new ones, claiming that they were faulty.
"The new technology will ease some of the registration problems NEC faces, such as securing voter databases", said NEC Information Officer Albert Massaquoi in 2011.
"It will also make it easier and faster for NEC to replace voter's cards for anyone who loses his or her own," he told local journalists. "The new system will also discourage registration duplications or fraud. Your personal data will be kept in the system and you will not be able to register twice."
Critics had since argued that the biometric system could fail, while others say they expect the modern technology to reduce or stop underage voting and reduce the percentage of invalid votes nationwide.
In his broadcast to the nation, president Koroma made it clear that his announcement does not mark the beginning of election campaigning. He said that the NEC will in due time be announcing a date for the start of campaigning, and called upon every citizen to help promote democracy in the country, by ensuring that campaigning and voting are free of violence and intimidation.
Both the ruling APC and the main opposition SLPP are now set to hold their respective national conference in the next few months, where they are expected to elect their presidential candidate.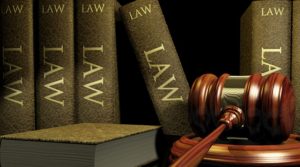 A very lamentable portion of the president's speech which many people are not even focusing attention on is the referendum on the new constitution which, he said, will take place before the end of September this year. The new constitution shall be tabled in parliament for final enactment in line with ECOWAS' protocol on democracy. But the major questions are, what does the new constitution entails? Is there any third term allowance in it for future presidents? Is there any provision for personal interest? Only the drafters know that at the moment… It's however clear that whatever might be hidden in the new constitution would not be a third term agenda because President Koroma's successor shall be already known before ratification.  
It's going to be a herculean task in both APC and SLPP camps to come up with acceptable flagbearers. They have to be careful and mindful about post-convention tsunami that might turn their expected victory into irreparable damage.  
After all the years of intraparty fracas and abhorrence, the opposition SLPP has finally recognized the undeniable necessity for peace among its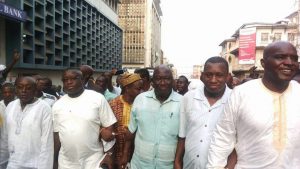 hierarchy. After an unexpected reunification of flagbearer aspirants, the national chairman, Chief Somano Kapen, who was eccentrically dethroned by some sects within the party, has been joyously reinstated as the constitutionally mandated chairman.
Dr Prince Harding, who was selected as Chairman to replace Chief Kapen, has unconditionally resigned his position showing a sign of commitment to the party's reunification effort. Many other settlement measures are being taking including withdrawal of intraparty cases from the court and rerunning of lower elections.
So far, there are at least twelve candidates vying for the opposition flag:  Julius Maada Bio, Alie Kabba, Kandeh Yumkella, John Benjamin, Alpha Timbo, Jonathan Tengbe, Jonathan Sandy, Munda Rogers, Umaru Wurie, Ansu Kaikai, Ernest Ndomahina and Andrew Keili.
The ruling APC also has some rough ladder to climb as many prominent figures, some even unexpected, are eyeing the red sun for next elections.  Some of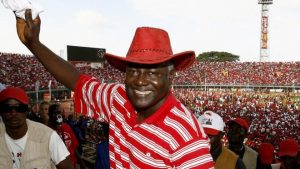 the candidates include Alimamy P. Koroma – current Ambassador to China, VP Bockarie Foh , Dr. Zainab Bangura, Dr. Kaifala Marah, John Sisay – the former head  of Sierra Rutile Ltd., Joseph Kamara – the current Attorney General,  Alpha Kanu –former minister of information and communications, Minkailu Mansaray – the minister of mines.
From CEN's point of view however, we think the ordinary voter should accept president Koroma's date for elections in good faith hence it's not a "MORE TIME, INJURY TIME, THIRD TERM" bid. We should be thankful to God for directing the APC government to allow the poll which is one of the major indicators of democracy. The fact is that nothing would have really happened if President Koroma had insisted on the "more time" suggestions because the opposition SLPP which supposed to challenge the motion, is still busy with internal regrouping after years in disarray.
Moreorless, whether elections would be conducted today or tomorrow, some of us still doubt what would be the positive outcome for the ordinary citizens, hence the country's political power still reciprocate among the recycled politicians in the usual APC and SLPP.